Port Aster Secrets #2
Released June 2014
Winner of the 2015 The Word Award for mystery and a 2015 Selah Award finalist
Kate Adams had no idea she was carrying counterfeit money, and she can't believe that it came from her sweet neighbor. Or that it lands her in the middle of another one of Detective Tom Parker's investigations. Determined to prove her neighbor's innocence, Kate stumbles into a pit of intrigue that is far deeper than a two-bit counterfeit operation–and strikes too close to home for comfort. As family secrets come to light, her world–and her budding romance with Tom–begin to crumble. To Kate, it's clear that she won't be safe until she uncovers all of Port Aster's secrets. But is it too late for her and Tom?
Award-winning author Sandra Orchard draws readers into a world of rogues, red herrings, and romance as she unfolds the continuing story of amateur sleuth Kate Adams.
N.B. Each book in this series is a stand-alone mystery featuring Kate Adams, a herbal medicine researcher turned amateur sleuth, and Tom Parker, Port Aster's newest detective. Together the three-book series reads as a romantic suspense, with Kate and Tom's romance and an underlying suspense plot arcing the series. For that reason, and because book two is a spoiler for book one, we recommend the series be read in order.
What others are saying:
"Orchard infuses romance with suspense and keeps the excitement coming page after page. Readers will love the ever-deepening mystery as Kate extends her investigation and finds herself and her long-dead father tangles up in an international corporate conspiracy." Booklist
"This sequel picks up where the last book left off, so it's helpful if readers are familiar with the plot of Orchard's Deadly Devotion. The main characters' relationship develops nicely. More secrets are revealed and a mystery is solved, but there are still many questions the reader will be eager to have answered in (hopefully) the next book." 4 stars RT Book Reviews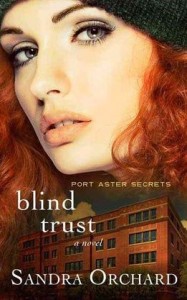 Also available in Large Print, Hard Cover volumes with cover to the left
SaveSave