Port Aster Secrets #1
Winner of the 2014 "The Word Award" for suspense

Kate knows the truth is out there—but if she's right, that means a killer is out there too.
Research scientists Kate Adams and Daisy Leacock were on the brink of a breakthrough for treating depression with herbal medicine when Daisy was suddenly found dead. Kate knows that her mentor's death wasn't suicide or a careless accident—and she's determined to do whatever it takes to unearth the truth about what happened to the woman who changed her life.
Former FBI agent Tom Parker is finding it hard to adjust to life back in his hometown of Port Aster. Though an old buddy gave him a job as a detective on the local police force, not everyone approves. Tom's just trying to keep a low profile, so when Kate Adams demands he reopen the investigation into her friend's death, he knows his job is at stake. But despite his attraction to her, Tom thinks Kate herself may have something to hide.
As evidence mounts, a web of intrigue is woven around the sleepy town of Port Aster. Can Kate uncover the truth? Or will Tom stand in her way?
Here's what others are saying:
"I couldn't put it down. A compelling plot with intriguing characters that swept me up into their lives."
—Margaret Daley, author of the Men of the Texas Rangers series
"A clever whodunit mixed with a sweet romance. This makes for a story you won't put down until the end—and then only because you have to. Looking forward to book two!"
—Lynette Eason, bestselling and award-winning author of the Deadly Reunions series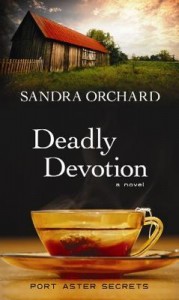 Also available in hardcover, large print
SaveSave