Sandra loves to share her writing and research adventures with audiences, in presentations filled with humorous anecdotes, and eye-opening insights into the publishing world.
She also loves to help aspiring fiction writers develop their craft, and to help those who think they could never write fiction ignite their imagination through a variety of lively workshops.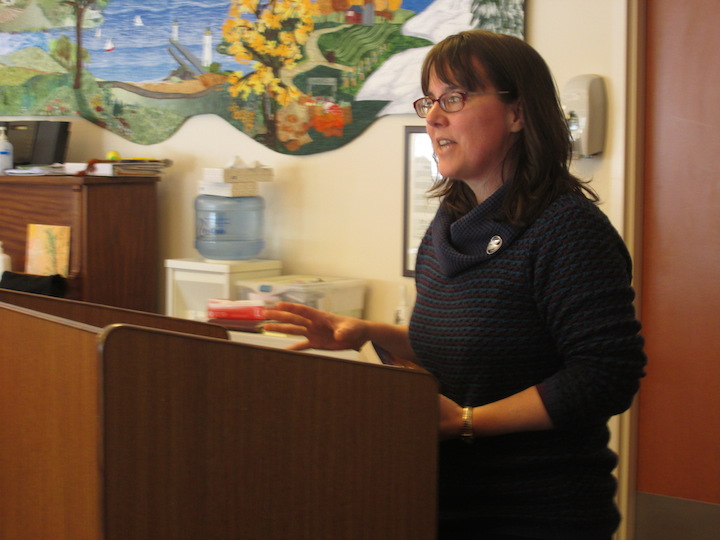 She is available for community and church events, bookstore events, writers' groups, book clubs, and library or classroom guest visits to discuss writing, the writer's life, topics related to any of her books, her personal journey and testimony or to engage in a Q&A session.
To schedule a speaking event, please email Sandra.
Scroll down for topics, a workshop video clip, and currently scheduled events.

For BOOK CLUBS, LIBRARIES, SERVICE CLUBS, NON-PROFIT COMMUNITY GROUPS, FUNDRAISING EVENTS ETC.
Writing Process – (20-30 minutes) In a lively presentation, filled with humorous anecdotes, Sandra discusses how she develops and researches her stories from first idea to finished book. Pairs well with a Q&A session about writing.
Journey Toward Publication – (20-30 minutes) Sandra's personal story of becoming a published author and beyond. Pairs well with a Q&A session about writing in general or a specific book.
So You Want to Be a Writer? – (1 1/2 hour workshop) Join award-winning, mystery and romantic suspense author, Sandra Orchard, as she walks you through a whirlwind tour of novel-writing and helps you to unleash your own creative talents in a lively group collaboration.
Q & A – (from 20-45 minutes) Sandra will answer questions about the hilly road to becoming a published author, about publishing in general, or writing in general.
Sandra is available to SKYPE with groups, if desired.
Suggested fee: Sandra doesn't charge for speaking at events for non-profits, however, she requests reimbursement for travel expenses if the event is further than 60 km from St. Catharines, Ontario, Canada.
PREPARED TOPICS & DESCRIPTIONS for CHURCH GROUPS/RETREATS
Writing Journey as a Christian Fiction Author – (20-30 minutes) Sandra's personal story of becoming a published author and beyond. Pairs well with a Q&A session about writing in general or a specific book.
Writing to God's Glory – (20-30 minutes) Sandra offers inspiration and insight to aspiring writers on how God can and is using their writing in ways they might never have imagined or realized.
All other topics listed on the page. Open to requests for other topics.
Suggested Fee: Sandra doesn't charge church groups, however, if she is speaking as part of a larger event, she requests that registration fees and other expenses she'd incur to attend the event, be waived or offset proportionally.
PREPARED TOPICS & DESCRIPTIONS for WRITER'S GROUPS, CONFERENCES or CLASSROOMS
Fiction Basics – 1, 2, 3 or 5 hour programs are available.
Interactive, lecture format with hands-on examples and an image-intensive powerpoint presentation and extensive handouts to aid retention.
In this comprehensive continuing class, learn the essential components—goal, conflict and disaster—of a scene and how to choose them wisely and write them well. Learn how to structure your novel scene by compelling scene, in a way that will grip your readers from beginning to end. Learn how to story board your novel, and gain a deeper understanding of the importance and role of major turning points and how they're used to propel characters toward their goal and inner growth. Finally, gain tips for choosing the best pov for a scene, how to fix pacing and avoid episodic writing, and how to avoid the most common plot and writing problems. (lengths under 3 hours will not cover all topics)
Subtext – (90 min – 2 hr)
Readers crave an emotional reading experience. Many manuscripts fall flat because they lack consistent use of subtext. Subtext is what hooks your reader page by page, engaging them in the story to a much greater depth than on-the-nose writing. Through an interactive lecture format, including hands-on practice (for the longer session), this workshop will help writers understand how to utilize subtext in a wide variety ways in their stories.
How to Write a Selling Synopsis – (1 hour)
Learn how to write a concise synopsis that will convince an agent or editor that your novel both tells a compelling story and has the essential elements they seek. Or discover what your story is missing and learn how to fix it, before sending out queries. We will look at several models for writing a synopsis. Study examples of synopses of contracted novels. Learn what a synopsis is, and what it isn't, and how it is used in the publishing process—more than you think.
Writing Romantic Suspense – (1 hour)
Lecture format with an image-intensive power point presentation and extensive handouts to aid retention. This workshop identifies the difference between mysteries and romantic suspense, and the expectations of its readers. Writers that aspire to excel in this genre need to be able to write both a satisfying romance, and a suspense plot full of twists and turns and… intertwine those two heart-pounding plots from beginning to end without sacrificing pacing. This class will give writers a deeper understanding of the essential components of a romantic suspense and how to utilize them to better meet romantic suspense readers' high expectations.
What Do I Write About? – (1 1/2 hours or more; best-suited to groups from 5-30 people)
Review genre and story types to explore the types of stories you might like to write, then participate in the process of brainstorming a plot and characters. This interactive session provides tremendous insights into the creative process and how to tap into your imagination. And participants will leave with take home resources they'll use again and again.
Brainstorming Session – ( time varies)
This session can be appended to an event at no extra charge. Sandra will work with groups of 20 people or less, assisting in brainstorming individuals' stories.
SUGGESTED FEE FOR WRITING-RELATED WORKSHOP PRESENTATIONS: $100/hr teaching time + travel expenses if the location is more than 60 km from St. Catharines, Ontario, Canada, or comparable waived registration fee to attend the rest of the event. Please contact Sandra if your group is small and has a special financial need.
(requires Quicktime; right click to open link in new window to allow time to load)
Upcoming Events:
June 11-13, 2015
Teaching a 5 hour continuing class on writing fiction at at Write Canada
June 19, 2015 7 PM
Author Night Coffee House at Heritage Christian Bookstore, Grantham Plaza, St. Catharines
Former Events include:
Community: Lincoln, Pelham, and Thorold Libraries; Lincoln Chamber of Commerce Dinner, Hospice Niagara day program, Hospice Niagara Volunteers' Retreat, St. Ann's Community Church Prime Time Group,
Conferences: Write Kitchener, Write Canada, Q&A at CLAO conference,
Retailer Events: Living Books, Summer in Paris event hosted by David C Cook Distributing