Weeds of Doubt, my fourth cozy mystery with Annie's Fiction ships in January to subscribers of the Victorian Mansion Flower Shop Mysteries. (Click the links for more information on how to get these books).
As you might guess from the title, I researched a lot of "weeds" in preparing to write this book. And I discovered that I should eat a lot of the ones I'd been pulling from in and around my vegetable gardens every summer, because in some cases, they're even more nutritious than the plants I'm nurturing.
Best of all, weeds thrive on being ignored!
So this summer I added purslane, young dandelion leaves, lambs' quarters and chickweed to my salads and I dug up the roots of the dandelion and burdock and infused their goodness into vinegar, which I've been using to make my salad dressings. I also dried and roasted some of the dandelion roots for quite a tasty tea that does a humdinger job of cleaning me out. 😉
Of course, I knew better than to go anywhere near hogweed–a highly noxious plant that may or may not be a clue to this mystery's killer. 😆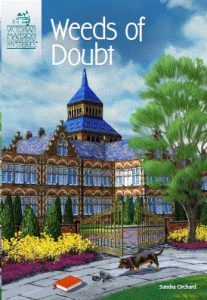 The Victorian Mansion Flower Shop series is about mysteries encountered by a former forensics botanist professor who takes over her her grandmother's flower shop on Orcas Island in Washington State.
In Weeds of Doubt (#14 in the series), Summer is winding down and florist Kaylee Blue and the other residents of Orcas Island are planting fall flowers and preparing for another bustling autumn tourist season. But Kaylee has a full course load. Turtle Cove High School's most beloved teacher has retired and is about to move off island, and mild-mannered school librarian Wilma has begged Kaylee and the other members of the Petal Pushers garden club to help her assemble a last-minute class reunion so that everyone can say goodbye before he leaves town.
Unfortunately, there's nothing gym-dandy about the social when someone is killed on the beach. It's not a former-student body that Kaylee nearly stumbles over while walking Bear. It's the photography buff brought along as a date by one of the alumni, and other than Arnold, the poor sap, no one knows her. So who else would have a motive to kill her? Unless Wilma, who's harboured a secret crush on the dentist for more than a decade, got jealous enough to pick a peck of poison and ring the final bell on her rival . . .
Kaylee will have to do some old-school detective work is she's to mow down a murderer–before someone else becomes dead of the class.
For those who don't subscribe to the series, these hardcover books can sometimes be found in libraries (thanks to patron donations), flea markets, and at used book stores (including online retailers, such as those distributed by Amazon marketplace).
Here are some options for my previous Annie's titles: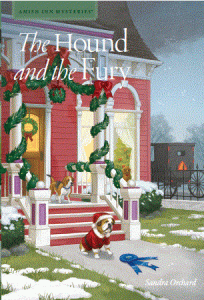 The Hound and the Fury ~ Through Amazon.com
On Pens and Needles ~ Through Amazon.com
Digging Up Secrets ~ Through Amazon.com
Click on the "more buying choices" option for each book on Amazon to see the vendors selling used copies and the associated shipping cost if any.