My third cozy mystery with Annie's Fiction shipped this month to subscribers of the Secrets of the Castleton Manor Library series. I love this series set at a luxurious mansion on Cape Cod that serves as a place for book lovers and writers retreats.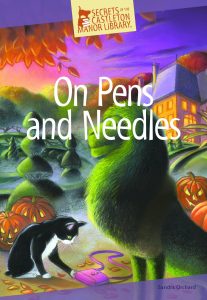 On Pens and Needles is the thirteenth book in the multi-author series, set in October, so I had fun playing off various superstitions.
I love the title the publisher chose. It's reminiscent of all those fun Serena Jones Mysteries titles. 🙂
Sadly for those hoping to pick up my book without subscribing to the whole series, it isn't available through regular retail outlets. However, sometimes you can find used copies for sale online or at flea markets or donated to your local library.
For those in Niagara, Ontario, I plan to donate a copy of this and my other Annie's Fiction titles to my local library, which once it's catalogued means it will be available throughout Niagara via interlibrary loan. I'll keep you posted.
Here's the back cover blurb:
The spine-tingling scene is set at Castleton Manor in Lighthouse Bay, Massachusetts, when the grand mansion plays host to a retreat for horror writers and fans. Librarian Faith Newberry feels unusually ill at ease about the event celebrating frightening stories, and all the talk of superstitions and bad omens makes her apprehensive. Her sense of foreboding only grows when the retreat organizer devises a series of hair-raising stunts to keep the guests constantly on edge.
But then something happens that no one could have predicted. One of the stunts turns deadly.
As Faith and her friends in the Candle House Book Club investigate the suspicious death, another mystery develops. Horror novelist Pierce Baltimore becomes the victim of pranks inspired by his latest book. The writer made many enemies during his climb to the top of the best-seller list, so is someone seeking revenge? Or are the pranks just part of the retreat's entertainment?
Join Faith and her friends—including her dedicated cat, Watson—as they roll the dice on these two mysteries. Will they be able to solve them both before Pierce's luck runs out?
If you get a chance to read this book, I hope you enjoy it. I had a lot of fun with these characters.
This is my 16th published novel. Check out the complete list here: https://sandraorchard.com/my-books/