Rick Gray's recipe for Chili made Easy:
This quick and tasty chili recipe is a family favorite on a cold winter's day. It's also the recipe that my hero in Deep Cover makes for the heroine's young sister.
Ingredients:
·       

1 pint (500 ml) sweet chili sauce (see below *)

·       

1 lb (500 g) ground beef

·       

1 onion

·       

1 jar of spicy spaghetti sauce

·       

2-3 tins of baked beans (or kidney beans)

·       

1 tbsp (15 ml) chili pepper (or to taste)

·       

salt and pepper to taste
Instructions:
Brown onion and ground beef in the bottom of a large pot. Pour off excess fat. Stir in all the other ingredients and simmer for 20 minutes. Serve over mashed potatoes or with tea biscuits.
*Homemade sweet chili sauce [makes 4 1/2 quarts (4 liters)]
12 large tomatoes                   2 large onions
4 green peppers                      4 apples
1 stalk celery                           4 ½ c brown sugar (1.125 L)
1 tbsp salt  (15 ml)                  1 tsp dry mustard (5 ml)
½ tsp black pepper (2.5 ml)   ½ tsp cayenne pepper  (2.5 ml)
1 tbsp cinnamon (15 ml)        1 tsp ground allspice (5ml)
1 pt. cider vinegar  (500 ml)
Skin tomatoes using boiling water. Mash tomatoes and chop all ingredients. Combine in pot with spices and vinegar. Simmer 1-2 hours.  Put in sterilized jars and seal with heated lids.
Here's a fun clip from the story in which Rick has just offered to make supper for the heroine's sister, Lori, and asked what she'd like…
Lori pulled a tin of beans from the cupboard. "Like chili."
He laughed—a laugh filled with memories of weekends in the kitchen with Ginny concocting outrageous combinations of food, but none as peculiar as the birthday cake Lori had made for him. When the bottle of whipped cream she'd been using to ice his cake had run dry, she'd thought the picture on the aerosol tin in her mom's bathroom looked like the same stuff. He worked his mouth, still able to taste the lemony-scented shaving cream. "Okay, chili it is."
If you love recipes…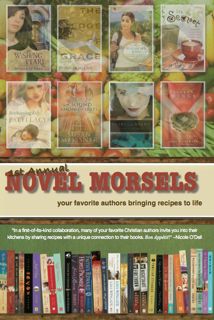 You can get this book free with my special coupon code. 
 A collaborative recipe Ebook bringing your favorite Christian authors and their favorite foods together.
Sixty-five Christian fiction authors have come together in this first-of-its-kind e-book, sharing more than 120 recipes that connect to their books or their characters.
The book retails for $2.99, but use the special coupon code, SandraOrchard, to download the book for free!!
You can purchase Novel Morsels RIGHT HERE. 

Enter my coupon code in the bottom left hand corner and click apply. The book will then show a zero balance owing, and you can proceed to checkout.
Just so you know what to expect…
You will be asked for your name, email address and phone number. You can simply put your first name and n/a for phone number, but ensure you type your email address accurately as your receipt and download link will be emailed to you.
The receipt will appear in your inbox almost immediately, but I found that the email with the download link was delayed by a couple of hours. Rest assured that it will come. You may want to check your spam file if you don't see it after a few hours. The book itself is a 55.6 MB color pdf file so if you're not on highspeed, it could take a while to download.
Novel Morsels is also available for 99 cents on Kindle and Nook with limited pictures due to file size.
Did you know that you can download free software called Calibre that will convert pdf files to files better suited to your particular Ereader? I use it to convert my pdf files to mobi files for Kindle, and it works great.
And you can download this free International Cookbook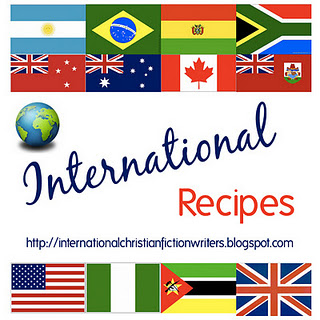 Written by authors of Christian fiction representing a variety of rich cultural traditions from Canada to the UK to Tasmania to Brazil to Mozambique, its goal is to promote international Christian fiction.
Travel with us around the world as we sample delicacies that uniquely represent our home countries or the settings of our books.
Try our exciting selection of entrées, sides, mains, desserts and snacks:
• Peanut soup from Bolivia.
• Chicken croquettes from Brazil.
• Cornbread from Tennessee, USA.
• Cranberry salad from Australia.
• Bobotie and Cape Lamb Pie from South Africa.
• Mennonite stew from Canada.
• Passionfruit and coconut cake from Mozambique.
• Pavlova from New Zealand.
• Scones from England.
And many more! Over 40 recipes in all.
Click here to download the book.
You can choose from a variety of formats that can be read online or on popular Ereaders, or as a pdf for printing.