Do you envy those people who can rattle off the kind of pithy comeback that, for most of us, comes to mind hours or days too late?
The wonderful thing about writing stories is that I get lots of time to think up the perfect responses for my characters. It's not easy, though. I have spent days writing and rewriting in search of a perfect bit of dialogue or thought, and many more days fretting over bits I'm still not happy with.
So… when I hear such a line in real life, I grab my pen and write it down.
That's what happened as I sat down at a picnic table with my husband during our vacation this summer.
This was the gorgeous view from my side of the table: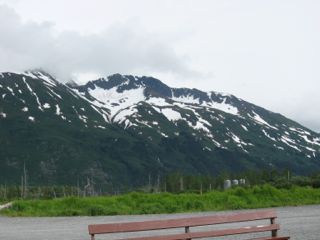 The view from my husband's side of the table was the side of a building. You'll have to use your imagination, because it certainly wasn't picture worthy. 
I said to hubby, "You're missing the beautiful view!"  
His immediate response as he smiled at me across the table was: "No, I'm not." 
Ahhh, good answer! 
Your Turn: What's the best one liner, zinger or romantic thing, you've heard lately? Or wished you'd said after the fact?!
P.S. If you missed Monday's post, everyone who leaves a comment will be entered in the draw for a copy of my October release, Critical Condition, book 3 in my Undercover Cops series. I'll announce the winner at the bottom of Monday's blog.