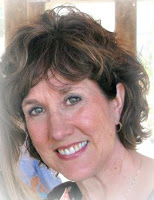 I'm thrilled to have Beth K. Vogt as my guest today. I met Beth a couple of years ago at an ACFW conference and have enjoyed "talking books" with her ever since. Beth believes God's best often waits behind the doors marked "Never." She is an established magazine writer and former editor of Connections, MOPS International's leadership magazine. And now…is a multi-contracted author!
I invited her to stop by and talk about characters. Take it away, Beth…
FICTIONAL CHARACTERS WITH A DASH OF REALITY
I've heard people say they don't waste their time reading fiction. Oh, the stories they are missing!
I see a novel as a wonderful opportunity – an invitation, really – to explore and to question, while "living" the literary lives of people like PJ Sugar (a favorite Susan May Warren heroine), or Joy Ballard (thank you, Rachel Hauck) or Anne with an "e" (compliments of L.M. Montgomery), or even my own Kendall Haynes, who wrestles with life not going according to plan in my upcoming novel, Catch a Falling Star (May 2013, Howard Books).
Kendall's story was prompted by a conversation I had with a good friend – mixed with a little bit of "what if?"
I write fiction, so all of my characters are imaginary, right?
Well, sort of.
I've borrowed my friends' names and loaned them to the people living between the "Once Upon and Time" and "Happily Ever After" in my books. And, no, I've never used a friend's name for a villain. There are limits to friendship.
I've also given my main characters the same jobs as some of my friends, although none of them rescue bad-boy llamas like Aunt Nita in my debut novel, Wish You Were Here.
So far all my fictional characters live where I do (Colorado), although I take "novelist's license" on the details of their homes. You won't find me giving a street address for anyone, but I do mention specific locations like the Air Force Academy or a favorite restaurant or two. (On the Border, anyone?)
The most realistic aspect of the imaginary people in my stories? They confront true-to-life problems – the same issues you and I deal with. Things like:
· falling in love with the wrong person
· wrestling with the consequences of a poor choice
· navigating dicey family relationships
· unraveling misconceptions about God
· Choosing between forgiveness and unforgiveness
More specifically, I've had characters deal with topics like cutting and pornography and divorce and child abduction and infertility and adoption and singleness.
Why?
I like my fiction flavored with reality.
How about you?
Your Turn: When was the last time you read a novel and forgot you were turning the pages of a book? Do you have a character who is so realistic that you're drawn back to that story again and again to re-read scenes?
Giveaway: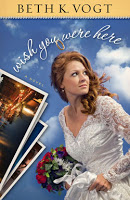 Wish You Were Here, Beth's debut Christian romance novel, released May 2012. Her next book, Catch a Falling Star releases May 2013. She's giving away a copy of Wish You Were Here to one lucky commenter. Winner will be announced Monday.
About Wish You Were Here: 
Allison Denman is supposed to get married in five days, but everything is all wrong. The huge wedding. The frothy dress. And the groom. Read more
Visit with Beth at bethvogt.com.