What fun it was to spend a weekend with other novelists!
We had the entire ground level of the hotel to ourselves so not a single person looked at you funny if you started pacing the hall and arguing with the character in your head, or if you discussed with a group of co-conspirators the best poison to use to do away with Charlie and not get caught.
Wednesday, I'll share some highlights of what I learned at the ACFW conference, but today I'd like to introduce you to a couple whose table I had the privilege of sharing at the awards gala on the last night.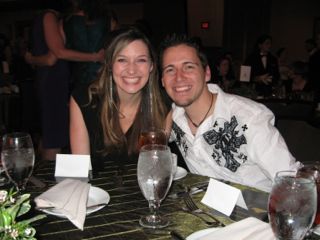 They are Caleb and Brittany Jennings Breakey.
Caleb
was a finalist for the Speculative Fiction category of the Genesis contest (unpublished). I took the above photo before the awards ceremony of, I said, the future winner. 
And I was right.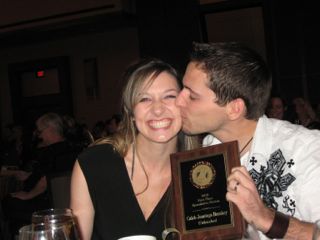 Now I'm not a spec fic reader, but Caleb wowed me with his love story. How sweet is this?
He's loved her since she was 11. Just makes me want to write him into a book.
He and his wife have taken night manager jobs to give them more time to pursue their writing dreams. Listening to them tell their story was like watching all the best parts of an inspirational romance novel come to life. Their passion for Christ and each other was wonderful to see.
I also learned that Caleb is the author of two yet-to-be-released non-fiction books. The first, How to Follow Jesus without leaving the Church, releases from Harvest House in the Fall of 2013. So…
Caleb hadn't planned to focus on his fiction writing any longer, but his wife urged him to continue. And he's so glad he listened.
Conferences bring out the gamut of emotions in attendees–from the thrill of a book contract, or proposal request, or an award, to the agony of being told your story isn't ready yet, or simply being overwhelmed by how much you didn't know that you didn't know.
For me, the highlight of the conference was sharing in this couple's joy the night of the gala. It reignited the passion in me to tell the greatest love story of all.
Your Turn: What inspires you?
P.S. Here's the complete list of the 2012 Carol Award Winners (published novels)
Here's the complete list of the 2012 Genesis Winners (pre-published manuscripts)
You can check out more photos on my Facebook Author Page