Snow is in the air. The fire is crackling. And the decorations are up.
The above picture is of nativity characters I painted when my children were younger. Each year I set them out arranging them a little differently. I find holiday decorating to be a bittersweet time as many of my decorations are cherished gifts from my mom who passed away when my children were babes, and from my dad who passed away more recently.
So I have to admit that I was having trouble getting into the Christmas spirit this year.
With our children grown, traditions are changing. This will be the first year that I don't share either Christmas or Boxing Day with my sisters and their families. Like my own eldest daughter who has married and had a child, my sisters' eldest children have also started families, which makes arranging a get together far more difficult.
But… we're looking forward to new traditions.
This will be my grand daughter's FIRST Christmas. And it will be so much fun to enjoy Christmas through the eyes of a child once again.
So these days I'm happily sewing a cuddly flannel quilt for her, while listening to Christmas carols, and dreaming of snuggling up with her to read Christmas stories.
Your Turn: What are some of your favorite "preparing for Christmas" traditions?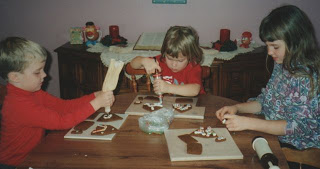 One thing I did with my children every year was bake and build gingerbread houses. This was a several day affair of shopping for the candy decorations, preparing the dough, rolling and shaping and baking it the next day, assembling and admiring, and then finally on Christmas Eve, nibbling. ~grin~