I'm excited to share with you today a bit about Ruby Dawn, a new release from Raquel Byrnes, a fellow writer with Hartline Literary Agency.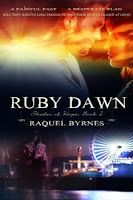 The book just released so I haven't had a chance to read it yet, but I'm looking forward to seeing how Raquel handled some elements similar to those in my upcoming release. (i.e. forgiveness, a past in youth detention, and a drug sting).
Here's the back cover blurb:
A Painful Past.
A former street kid, Ruby now reaches out to runaways through her medical clinic in the worst part of the city, but her escalating battle with a gang leader puts that in jeopardy.
 A Love Returns.
Cavalier, a risk-taker, charming… Ruby's first love is now on the right side of the law and the center of a dangerous DEA sting involving her clinic.  Tom's disappearance ten years ago broke her heart and rattled her faith. A
s their romance relights, memories of what it costs to love him flood her with fear.
A Desperate Plan.
Ruby's battle with the gang ignites a firestorm of danger, and a pattern of lies from within her own camp emerges. With Tom's life in the balance and her world cast in shadows, can Ruby trust God as she once did…or has she strayed too far, for too long to ever return?  
So… here's our discussion question for today…
Ruby once believed that God could make incredible changes in people, but when she encounters a dangerous person from her past, her faith is put to the test.
Your Turn: Has someone hurt you in the past returned and asked for forgiveness? Did you find it difficult to open your heart to them again? Is there a scripture verse that spoke to you?