I hope all of you had a blessed Easter. If, like us, your celebration included a special meal with extended family, you might be feeling like fasting for a whole different reason than today's topic.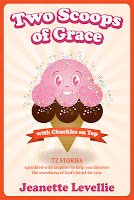 I recently had the privilege of reading an advanced copy of the new release, Two Scoops of Grace with Chuckles on Top, in which, in her unique, entertaining, and uplifting style, award-winning author and humorist Jeanette Leveille weaves 72 amusing stories with affirming Biblical truths.
And… I thought to myself, what better time to share one of the stories that most impressed me than when we're feeling really full.
Full of food. Full of the wonder of Jesus' sacrifice for us. Full of the hope of new beginnings (at least for those in the northern hemisphere who have been enjoying spring's new birth!)
People generally fast for either dietary/medical reasons or spiritual reasons. In her book Jeanette recounts a time when she was praying for a friend's upcoming MRI and contemplated fasting to get really serious about it.
But…she works with the public and becomes "Miss Cranky Pants" when she misses a meal. Not good.
So…what to do?
She happened upon Isaiah 58, in which God rebuked the Israelites for fasting food, but continuing to sin with their speech and attitudes. She recognized (in a much more humorous way than my brief account does justice) that what she needed to fast was complaining.
Every time she was tempted to complain or grumble, she would pray for her friend instead. 
Jeanette's account of the day that followed is hilarious, and oh, so convicting. She'd mistakenly thought that taming her tongue would be easier than going without candy or donuts. She learned a valuable lesson and… her friend got a ton of prayer!
I highly recommend this delightful devotional. Available here.
Jeanette's soul-nourishing examples of God's favor and grace will help you:
Laugh when you find cow patties in your field instead of daisies
Discover the bottomless heart of God, and
Grow in your acceptance of yourself and others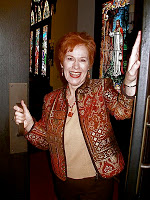 About the author:
 A spunky pastor's wife of thirty-plus years, Jeanette Levellie authors a bi-weekly humor/inspirational column, God is Bigger, a popular feature in the Paris Beacon News since 2001. She is a prolific  speaker for both Christian and secular groups, and loves to make people laugh while sharing her love for God and life.
Her hobbies include dining out, avoiding housework, reading, and watching old classic movies. Gotta love this woman.
Visit her blog, On Wings of Mirth and Worth, at www.jeanettelevellie.com to learn about some giveaways she's doing to celebrate her book's release.
Your Turn: Have you ever fasted from food or something else to draw closer to God or to focus on prayer? Tell us about your experience. Or…  what might be some habits or activities that we could all benefit from fasting?