Are you looking for a lazy summer day read?
Looking for a mystery with a pinch of humour and dash of romance?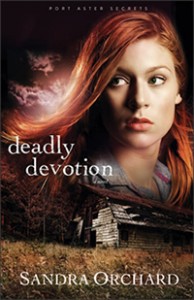 The Ebook version of Deadly Devotion is on sale for 99 cents!
Already read the book? Please tell a friend about the sale. And check out Deadly Devotion's bonus features.
Here are some of the online retailers it's discounted at:
Deadly Devotion is book one in the Port Aster Secrets series, set in Niagara, Ontario, about an herbal medicine researcher that turns amateur sleuth when her mentor's sudden death is ruled, at best, the accidental ingestion of a poisonous herbal tea or, at worst, a suicide.
Kate Adams is determined to do whatever it takes to unearth the truth about what happened to the woman who changed her life. But as she digs into the mystery, she unearths more secrets buried in her sleepy town and soon finds herself tangled in a web intrigue she might not escape.
This is what critics have said about Deadly Devotion:
"Romantic suspense maven Orchard (Shades of Truth) plunges readers into the fray immediately … Stakeouts, possible bombs, … keep up the breakneck pace of this tale as Adams and Parker try to uncover a killer and, perhaps, a little romance as well. … Fans looking for a quick read and a unique mystery will surely enjoy it."
"Orchard's first Port Aster Secrets book is suspenseful with plenty of action and a fascinating mystery that readers as well as tea lovers will enjoy."
"I loved how the author used this understated, odd-couple comedy to not only raise the stakes for the characters, but to flesh out their personalities as the story progresses."