If you haven't started reading my Serena Jones Mysteries yet, here is your chance to for less than a buck!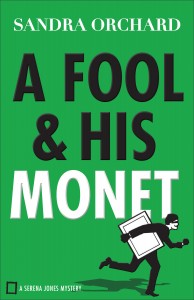 Serena Jones has a passion for recovering lost and stolen art–one that's surpassed only by her zeal to uncover the truth about the art thief who murdered her grandfather. She's joined the FBI Art Crime Team with the secret hope that one of her cases will lead to his killer. Now, despite her mother's pleas to do something safer–like get married–Serena's learning how to go undercover to catch thieves and black market traders.
When a local museum discovers an irreplaceable Monet missing, Jones leaps into action. The clues point in different directions, and her boss orders her to cease investigating her most promising suspect. But determined to solve the case and perhaps discover another clue in her grandfather's murder, she pushes ahead, regardless of the danger.
Here's what others are saying about A Fool and His Monet:
"an enthralling whodunit, replete with action, suspense, danger and a lot of humor. And there's a hint of a real romance developing. Serena is a terrific lead series character." ~Mysterious Reviews
"This intriguing look into the world of art theft from the perspective of an FBI agent, will keep readers guessing the twists and turns as to the identify and motive of the thief." ~ RT Book Reviews
"Orchard debuts a lighthearted mystery series. Her quirky characters are laugh-out-loud funny and reminiscent of the protagonists in ­Janet Evanovich's Stephanie Plum stories. Readers looking for a humorous mystery with a dash of romance may find it here." ~ Library Journal Review
But don't wait. The 99¢ sale ends Feb 28th
Find it at your favourite Ebook retailer for all popular Ereaders: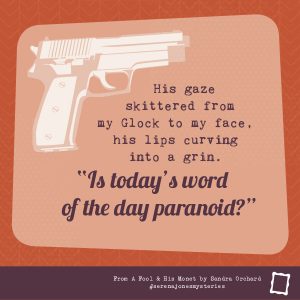 Laugh out loud and…develop your vocabulary!
And if you love the book, you can revisit the characters in: