This week I'd like to give you a glimpse into a new historical fiction novel in a bit different way. Author Amanda Cabot and her publisher are hosting a three-prize package giveaway to celebrate the release of A Borrowed Dream, the second novel in her current trilogy.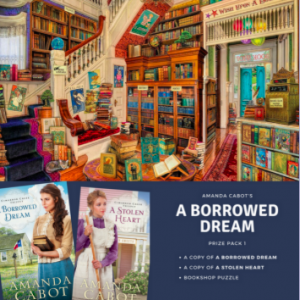 The idea of giving away the book and its predecessor, A Stolen Heart, wasn't surprising, but I was curious about the other prizes being including and I asked Amanda why she chose those things, assuming they must be connected to the story in some way.
Here's her response:
Well, when Revell's Marketing Director first asked me for gift ideas to go along with the books, I was stumped. I asked her to let me think about it, but the ideas flowed more like the proverbial molasses in January than clear water. It wasn't writer's block – after all, how can you have block over an apparently simple question? – but something was keeping me from being creative.
That's when I realized I needed to ask my characters for their ideas.
On Thursday, March 4, 1881, a late winter ice storm strands two of schoolteacher Catherine Whitfield's pupils in the small town of Cimarron Creek, Texas. Neither Hannah, the too silent daughter of handsome rancher Austin Goddard, nor Seth Dalton, whose frequent bruises suggest his father is far from the gentle man Austin is, can reach their ranches. So Catherine takes them home with her, never dreaming the simple action will have dramatic consequences.
The next morning, I (Amanda) sat all three of these characters at Catherine's kitchen table and asked the simple question, "What are your favorite things?"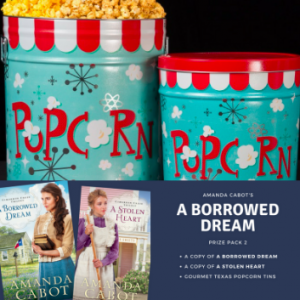 "Popcorn," Seth declared.
I stared at him, startled by his response. I would have expected him say pencils and paper since he loved to sketch. "Why popcorn?"
He gave Catherine a shy smile. "Because she let me make it all by myself. She trusted me." And trust wasn't something he'd been given before.
I nodded as I turned to Hannah. "What about you?"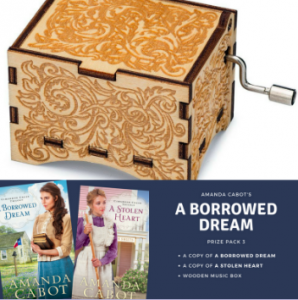 Her reply was the one I'd anticipated. "A music box like the one I used to have before …" She stopped abruptly, clapping her hand over her mouth as if she'd said too much.
Knowing I would get no more from her at this point, I posed the same question to Catherine.
"Books. A whole room with floor-to-ceiling shelves filled with books."
And just that simply, I had my answers for my publisher.
Seth would have popcorn, but not ordinary popcorn. No, indeed. He'd get gourmet Texas popcorn. Hannah's request was almost as easy to fulfill, with a beautifully carved music box that looks like it could have been made in the nineteenth century. Catherine's wish posed the biggest challenge. We obviously couldn't give away a room of books, but we could – and did – find a beautiful jigsaw puzzle of a book-filled room that looked like her dream.
So there you have it – the story behind the three gift packs for A Borrowed Dream. I hope you'll enter the contest http://bit.ly/2ptas6E and that I've intrigued you enough to add A Borrowed Dream to your TBR pile.
Sandra: You've certainly hooked me. Readers, be sure to click through to enter the rafflecopter giveaway. If you have a question for Amanda, leave it in the comments below.
Here's a little bit more about A Borrowed Dream:
There is no such thing as an impossible dream . . .
Catherine Whitfield is sure that she will never again be able to trust anyone in the medical profession after the local doctor's treatments killed her mother. Despite her loneliness and her broken heart, she carries bravely on as Cimarron Creek's dutiful schoolteacher, resigned to a life where dreams rarely come true.
Austin Goddard is a newcomer to Cimarron Creek. Posing as a rancher, he fled to Texas to protect his daughter from a dangerous criminal. He's managed to keep his past as a surgeon a secret. But when Catherine Whitfield captures his heart, he wonders how long he will be able to keep up the charade.
With a deft hand, Amanda Cabot teases out the strands of love, deception, and redemption in this charming tale of dreams deferred and hopes becoming reality.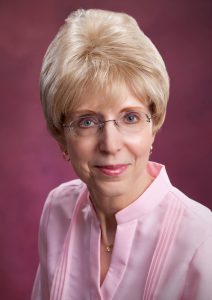 Amanda Cabot is the bestselling author of more than thirty novels including the Texas Dreams trilogy, the Westward Winds series, the Texas Crossroads trilogy, A Stolen Heart, and Christmas Roses. A former director of Information Technology, she has written everything from technical books and articles for IT professionals to mysteries for teenagers and romances for all ages. Amanda is delighted to now be a fulltime writer of Christian romances, living happily ever after with her husband in Wyoming.
Social Media Links
https://www.facebook.com/amanda.j.cabot
https://twitter.com/AmandaJoyCabot/
http://amandajoycabot.blogspot.com/
Buying Links