Patricia Bradley, in A Promise to Protect, the second book in her Logan Point series, once again delivers a wonderful, keep-you-guessing romantic suspense. And don't worry, you don't have to have read book one. This is a standalone novel that will give people who have enjoyed book one the added fun of seeing what some of its characters are up to now.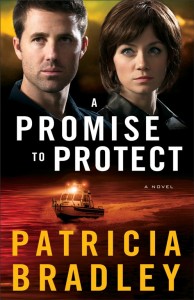 And who could resist the stunning cover?
Pat does a fabulous job of making the Mississippi setting come to life. As a Canadian who's never traveled to the deep South, it was quite a vivid experience. One particular scene involving snakes even haunted my dreams!
Here's the book blurb:
Acting Sheriff Ben Logan hasn't heard from Leigh Somerall in a very long time, but it doesn't mean he can get her—or their whirlwind romance of ten years ago—out of his head. When she calls out of the blue it is with a strange request to protect her brother, Tony. But when Tony dies just days later, Ben is charged with a different task—protecting Leigh and her nine-year-old son, TJ, from the killers. But how can Ben keep an eye on Leigh if she's doing everything in her power to avoid him? And could the secret that Leigh is keeping change Ben's life forever?
Suspense, intrigue, and a touch of romance make A Promise to Protect perfect for readers who like their stories with a hearty dose of mystery.
Me again: Now, as you probably guessed from the description. This is a secret baby story. While I often have a difficult time sympathizing with a heroine who keeps her child's parentage a secret from the father, and admittedly there were a couple of spots that I wanted to knock Leigh upside the head for not finally coming clean, for the most part, the fast-paced scenarios compelled me to suspend judgement and read on to see how the Lord might change her heart.
Let's Get to Know Pat & Her Characters Better
I borrowed the idea for the following questions from Jessica Patch's blog. BTW, I'll be there on Friday doing a giveaway.
Would you rather be single or married?
Pat: since I've been dating the same guy for going on 17 years, I figure I'd rather be single. Maybe that's why I write a little romance. 🙂
Leigh: Married, but he'd have to really like children.
Ben: Single. I have panic attacks when I get around kids.
Would you rather be invisible or read minds?
Pat: I'd rather be invisible. I used to watch Topper and really wanted to be like George and Marion Kerby.
Leigh: I'd rather read minds. I think I'd be a better doctor if I could. And I'd like to know what Ben Logan is thinking.
Ben:  I'd rather read minds. It would make being a sheriff much easier if I knew what the criminal was thinking. And Leigh, too. She's so hard to read. And maybe I could discover what's really bothering her.
Oh, I remember, Topper! Thanks so much, Pat, Leigh and Ben!
I actually had the opportunity to room with Patricia Bradley this past September at the Writer's Police Academy. It was especially fun to hear her warm Southern drawl, which I then found myself hearing in the character's voices as I read. 😀
In getting to know her, it quickly became clear that honoring God through her writing is her top priority. She is also an abstinence/healthy relationship speaker. And when she's not writing or speaking, or posing for crazy pics with me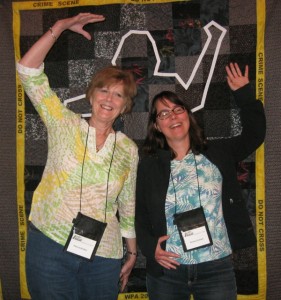 she throws mud on a wheel and tries to make something beautiful.
A Promise to Protect is available from all the major retailers. If you'd like to connect with Pat, you'll find her at: http://patriciabradleyauthor.com/ and her Facebook author page
Your Turn: Pat is crazy busy these days with approaching deadlines for both another book from Revell and one for Harlequin's Heartwarming line. But she'll be happy to answer your questions. So ask away!