Before I begin my interview with Chain of Mercy's hero, Richard Brooks, allow me to introduce the debut author behind the story, Brenda Anderson. Brenda has introduced many new authors to the blogosphere over the years, including me, and I'm delighted that I now have that privilege to do the same for her.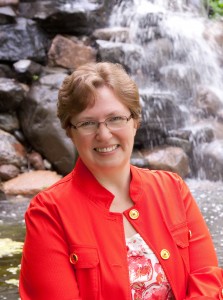 Brenda S. Anderson writes gritty, life-affirming fiction that offers hope and reminds readers they're not alone. She is a member of American Christian Fiction Writers, and is currently President of the Minnesota chapter, MN-NICE. When not reading or writing, she enjoys music, theater, roller coasters, and baseball (Go Twins!), and she loves watching movies with her family. She resides in the Minneapolis area with her husband of 26 years, their three children, and one sassy cat.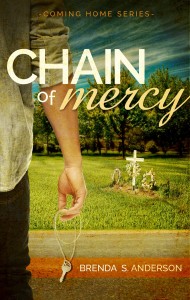 And to give you a little background on her novel's hero, here's the back cover blurb from Chain of Mercy, which officially releases, Tuesday, April 22nd, from Winslet Press:
They forgave him for the accident that killed their son, but he will never forgive himself.
Manhattan businessman Richard Brooks was at the top of the world, drunk with success, wealth, and women. Until one disastrous evening, when his world came crashing down.
Richard flees to Minneapolis where he repairs ancient boilers instead of solving corporate problems, and he's determined to live the solitary life he now deserves.
But Executive Sheila Peterson has other plans for the handsome custodian. Richard appears to be the perfect match for the no-strings-attached romance she's after, but she soon discovers that he's hiding more than the designer suits in his closet.
Oooh, has that spiked your curiosity? Well, let's grill Richard a little, shall we? 🙂
Question: Thanks for talking to me today, Richard! The grapevine tells me that you used to work in corporate America, a Vice President in a Fortune 500 company, but now you're doing custodial work. What compelled you to make that huge career move?
Richard: (sighs and tugs at a chain around his neck.) It's not that big of a change. I've always been a fixer. I grew up on a dairy farm, and we fixed anything that broke down. It was a natural progression to become a corporate fixer, but that's a high-pressure position. Working as a custodian has relieved much of that pressure.
Question: Why make the move from Manhattan to Minneapolis?
Richard: Minneapolis is close to family, and family is very important to me. Now I get to see my nieces and nephews more often. I won't miss birthdays, holidays any more. I get to take the nephews fishing, go to ball games. I get to spoil my nieces.
Question: Family is important to you, yet you're a confirmed bachelor. Have you ever considered settling down, starting your own family?
Richard: (fiddles with the chain again) I've always wanted to be a father, and thought maybe I'd found that someone to share my life with, but it didn't work out. Right now I'm satisfied with being an uncle.
Question: Hmmm. That grapevine I referred to earlier has you connected with Sales Executive, Sheila Peterson. Any truth to that rumor?
Richard: (Laughs) Do you really think a company executive would want to be seen with a janitor?
Question: Hmmm. That's exactly what I intend to find out!
I hope you've enjoyed today's interview. You can connect with Brenda at the any of the links below, and if you'd like to be entered in the giveaway for a copy of Chain of Mercy, please leave a question for Richard in the comments. Let's see if we can squeeze some more info out of him. 😉
Giveaway is limited to US or Canadian addresses and all comments must be made before 10 pm EST, Sunday April 27th. Winner will be notified by email.
Website link: http://brendaandersonbooks.com/
Blog links:
http://brendaandersonbooks.com/blog/
http://inkspirationalmessages.com/
Facebook link: https://www.facebook.com/BrendaSAndersonAuthor
Twitter link: https://twitter.com/BrendaSAnders_n
Pinterest link: http://www.pinterest.com/brendabanderson/
BTW, Tuesday, April 22nd, I'm guest posting at:
Seriously Write, talking about persevering through Writer's Block