For this month's Christmas Reads profile, I'm delighted to invite two-time national award nominated singer/songwriter and freelance writer, Sally Meadows, to tell us about her music and newly published stories. I had the privilege of meeting Sally at this year's Write Canada conference.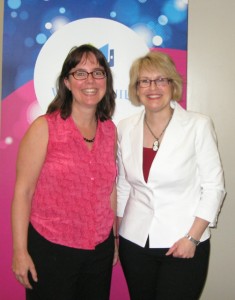 She's  from Saskatoon and just had her first two short stories published in two different anthologies. This fall she is also promoting her Christmas CD Red & White, which is fabulous. Take it away Sally…
Sally:
Thanks so much for hosting me, Sandra! This fall marks the publication of my very first short story, called "Love, Shania and the Whispered Wish" in Chicken Soup for the Soul: Christmas in Canada, which has been #1 on The Globe and Mail's (Canada's national newspaper) bestseller list for the last two weeks! My story starts on my wedding day – I was married shortly before Christmas, 27 years ago – and the very first feedback I received on my story was that it is "very romantic"! Here's a scrapbooked photo of my husband and me coming down the aisle just after we said our vows.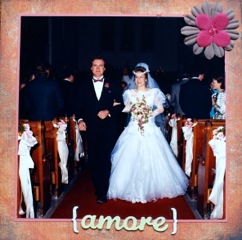 My story was inspired by my very first wish as a newlywed – that one day I would sing and play the piano in beautiful settings, just like the lovely brunette who serenaded us with Christmas music at the honeymoon resort. Little did I know back then, that not only was that whispered wish going to be fulfilled, but maybe – just maybe – the singer who inspired me all those years ago was none other than one of Canada's most beloved stars, before she was discovered.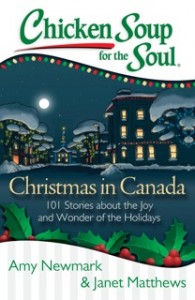 My story ends with a mention of my Christmas CD Red & White, so it's so cool that I can promote these together this fall! My Christmas album includes four original songs and eight Christmas classics, so there's something for everyone. I am especially proud of my song "This New Year", which was shortlisted for a 2014 Word Award in the category of song lyrics.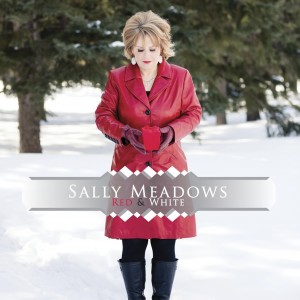 While my story "Love, Shania and the Whispered Wish" is all about the joyful aspects of my musical journey, my story "Choosing to Praise", which appears in the book "Organized Obstacles: An Underdog Anthology", has a more serious note as I discuss the challenges I have faced in music ministry. But it also has a happy ending, as do all the stories in this book. Each story inspires and provides hope as the author chronicles how he or she has turned his/her stumbling blocks into stepping-stones, rising above "underdog" status to become an "overcomer".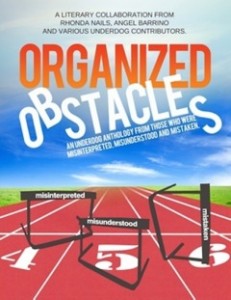 I thoroughly enjoyed writing these stories and songs, and my sincere hope is that you as reader and listener will enjoy them too! Here's how you can connect with me: I'd love to hear from you!
https://www.facebook.com/SallyMeadowsMusic
http://www.youtube.com/SallyMeadowsMusic
Twitter: @SallyMeadows
Sandra again: Sally is giving away one Free download card for her CD "Red & White"–the full album. To have your name added to the hat, please leave a comment or question for Sally and let us know your favorite Christmas song.
A name will be randomly chosen from all comments on Sat. Nov 22nd.

You can also find the books and music CD at Amazon and Sally's webstore: http://sallymeadows.com/store