My characters and I have been in knock-down, hair-pulling tussles for days as I try to get the truth out of them about what their problems REALLY are, so…when one of my blog readers, Alexa Verde, emailed to ask if she might write a guest post for me, I was happy to say "Yes!" … One less thing for me to think about. 😉
I asked her to write a devotional, secretly hoping my own characters might learn something about playing nice. 🙄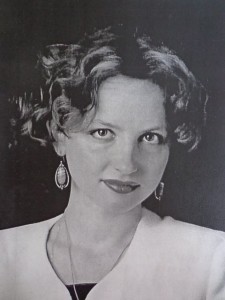 Alexa tells me that she fell in love with writing at age eight when she penned her first poem. After publishing 200 short stories, poems, and articles in the five languages she speaks–yes, five!–she's turned her creative passion to writing novels. She is currently participating in the Killer Voice program with Love Inspired Suspense, hoping to soon write for them, and she is also venturing into the world of self-publishing.
"In the same way, I tell you, there is rejoicing in the presence of the angels of God over one sinner who repents." (Luke 15:10, NIV)
The parable of the Prodigal Son is my favorite in the Bible. The story of the Father forgiving his rebellious Son and celebrating his return with a feast gives us hope. It gives us the promise of endless mercy from our Heavenly Father when we reach out to him with humble hearts. But sometimes it's difficult for us to ask for forgiveness, isn't it? Years ago, I concentrated on my past mistakes instead of moving forward. Fortunately, my friend, a wonderful Christian woman, helped me to come to the Lord and repent.
By putting that woman in my path when I was a proverbial prodigal daughter, God guided me through my life journey. God guides writers through their writing journey as well if we listen to His message.
I've tried to write other books before my upcoming release that didn't include faith elements, ignoring God's calling, and it took me nowhere. So I needed to write a book where I could grow together with the heroine and become a better person.
While writing this book, I started growing emotionally and spiritually through my heroine's journey. We both learned the lessons we saw in the Prodigal Son story but had never identified with before.
We have to find courage and humility to ask for forgiveness when we do something wrong.  When we stray from the right path, we need to find our way home, our way to God. Even though our actions are far from perfect, God always loves us, and His love has no limit. That's a beautiful thing about writing – you let your characters take risks and open themselves to hurt (something we avoid in real life), and in the end they just might teach you something.
Heartfelt thanks to Sandra for letting me share this on her wonderful blog.
Your Turn: Dear readers, what is your favorite story in the Bible? Have you ever dwelt on past mistakes instead of asking for forgiveness from God? How did you overcome it? I'll be giving away an E-copy of my new release to one randomly selected commenter.
Sandra back again: Alexa, thanks so much for sharing. I'd have to say Ruth is my favorite book of the Bible for many, many reasons.
Alexa's debut inspirational romantic suspense, COLOR OF DANGER, releases this Friday. It is the first in her Secrets of Rios Azules series—set in a fictional small Texas town where rivers and emotions run deep and the richest family in town has a taste for fine food, jewelry, and murder.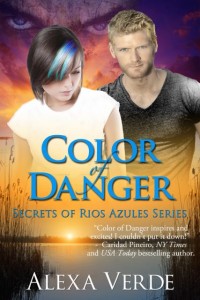 Here's the Back Cover Blurb:
Former runaway Mari Del Lobo works hard to save her struggling restaurant and to trust people again. Dallas surgeon Dr. Luke Goodman turns her world upside down with terrifying news. A recent murder has her late brother's – aka the Smiling Killer – signature and MO. When attacks on her escalate, Mari fights her growing attraction to the good doctor as fiercely as she fights for her life. To rescue herself and those she loves, will she be able to stop the murderer before he strikes again?
Luke couldn't save his fiancée from the Smiling Killer, but he'll do anything to prevent more murders, even ask help from the serial killer's sister. Finding a kindred tortured soul and the perpetrator's next target in Mari, Luke is determined to protect the stubborn ex-rebel. But Mari would rather face danger than risk the safety of the man she comes to love.
To connect with Alexa for news, recipes, giveaways, (self-pubbing tips) and more, please visit www.alexaverde.com.