This week, I had the pleasure of speaking at a Women's Spring Event–meeting new people and catching up with old friends. I had so much fun, I started thinking we should revisit some of my old characters here and find out what they're up to these days.
Since my recent visit to an art auction aboard a cruise ship had me reminiscing about the art crime in Perilous Waters, released four years ago this month,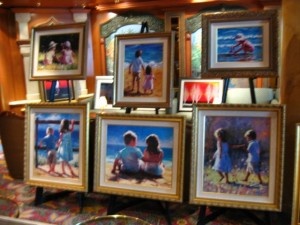 it seems appropriate to start with FBI agent, Sam Steele.
(BTW, Serena Jones fans . . . Sam knows her and has an inside scoop)
He's the star of this Love Inspired Suspense: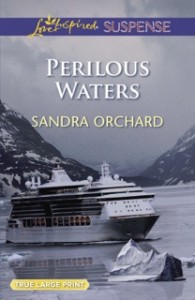 Not to be confused with the 1948 movie of the same name: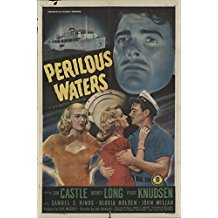 And as an added bonus, for those who haven't read the book, it's only 99cents on both Amazon.com and Amazon.ca at the moment.
Would you believe that even though I dreamed up every one of my characters and they spent months and months traipsing around my head as I wrote their stories, I often forget more about them than I remember?
So . . . before we get into the "what are you up to now" questions, we'll have a few get to know you questions, for those who've never met Sam and for the rest of us who have probably long since forgotten him.
Sandra: Tell us a little about yourself, Sam, and how you came to be in the midst of a thief hunt on an Alaskan cruise.
Sam: I'm an FBI agent, with our art crime team. Art crime is overlooked by a lot of police departments. Yet, it's a seventy-billion-dollar-a-year crime with criminals using paintings as collateral to finance everything from arms, drugs and money-laundering deals. So when we got a tip that a stolen Native American painting was being sold out of Skagway, Alaska, to the Robbins' Gallery, I did some digging.
When I learned Jennifer and Cassandra Robbins, who are the heiresses to the gallery, currently being managed by their guardian, booked a cruise to Alaska, I knew I didn't have time to set up a sting by my usual methods. So I decided to book my parents, widowed brother, my nephew and myself on the same cruise, under the pretense of celebrating our parents' 40th wedding anniversary.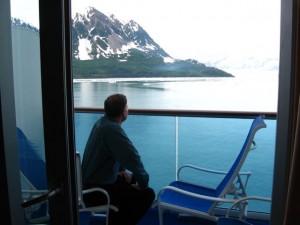 Sandra: Ooh, sounds as if it could be risky, exposing family to criminal types. What did you hope to actually accomplish?
Sam: Not to put my family at risk, for sure! In fact, they had no idea of my true motives and I'd hoped to keep it that way. My goal was merely to befriend the women in order to gather the evidence against them that I needed.
Sandra: That doesn't sound like something a nice guy would do. And I can't believe I'd make the hero of one of my stories not be a nice guy!
Sam: It's the job. Sometimes I've even had to pose as a criminal to recover stolen art and bring bad guys to justice. More than once I've posed as an unscrupulous private collector willing to overlook a masterpiece's provenance for the opportunity to own it.
Sandra: I guess sometimes the ends justify the means. But there must be some things you'd never do.
Sam: Yeah, I'd never again lie to the woman I love.
Sandra: Ooh, I think that's a bit of a spoiler for those who haven't read you're story. Why don't you tell us about the women you are investigating. What was your first impression? When did you know you had feelings for Jennifer?
Jennifer Robbins and her twin sister Cassandra were raised in a small rural Washington State community, where their mother taught art and her father managed a store. After her mother's art was "discovered," the family moved to Seattle where they opened what quickly became a lucrative art gallery.
Sadly at seventeen, the girls lost their parents and became wards of the gallery's curator. Cassandra now works at the gallery and seems to love the glamorous parties and publicity that goes along with it, while Jennifer works for a charitable foundation and seems to embrace a quiet and humble lifestyle. Of course, as an agent, I can't take anything at face value. I've been duped before by a beautiful woman that almost cost me a case. But from the first time I met Jennifer, I felt an undeniable attraction to her beauty inside and out. My family adored her, too, especially my nephew who she helped win a game of dominoes against our family aboard ship. Spending time with her and my family felt like the idyllic life I'd once dreamed about having.
Sandra: Is there anything that scares you?
Sure, the thought of making a wrong call, a mistake that could cost someone his or her life.
Sandra: What do you hope people will learn from your story?
Sam: Love is worth the risk.
Sandra: So true. Now it's been four years since your story took place. What have you been up to since?
Sam: Well, those who've read my brother Jake's story in Identity Withheld and my cousin's story Emergency Reunion know that I left the FBI to become a sheriff deputy and married Jennifer. And I'm thrilled to say we're expecting our first child.
Sandra: Congratulations! I imagine your parents are thrilled.
Sam: Over the moon, but you know all about the joy of grand parenting I hear. 😉
Sandra: Oh, yes, I'm eagerly anticipating the arrival of grandchild #6. 😀 One last question from our Serena Jones fans who are eager to know what she's up to these days. You both worked on the FBI art crime team. Have you heard from Serena recently?
Sam: It's interesting you should ask, because yes, she reached out to me when a situation arose on her honeymoon on one of the Greek Isles. But that's a whole other story. 😆
Your Turn: Any questions for Sam?
P.S. Serena Jones fans please refrain from posting spoilers in your comments here. We can continue the discussion of Sam's conversation with Serena over on the private Facebook group open to anyone who has finished reading Over Maya Dead Body (and can prove it by answering the admission questions) at: https://www.facebook.com/groups/1680399125601702/