I am thrilled to introduce you to my editor, Vicki Crumpton, from Revell Publishing. This is the wonderful person who first saw the promise in a manuscript, which was then called Murder by Marigolds, and is now Deadly Devotion. 😉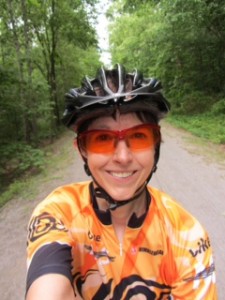 I've asked Vicki a slew of questions that I thought both readers and writers would be curious about. But first I've asked her to share a little about herself.
I'm a native Texan…you never relinquish that title.  I have an MDiv and PhD, but I keep those tucked away unless I bump into a patronizing male who asks, "Now is that Ms or Mrs?" "Actually, it's Dr., thank you very much." I've been with Revell since 2001 and in publishing since 1989.  That makes me almost older than dirt. When I'm not working, I'm riding a bike (the kind you pedal), taking photos, working in our flower beds, or kayaking.
Oh, that's funny. I had no idea you were a Dr.! I'm not sure if I should feel especially proud or worried that they had to break out the big guns–aka the really smart editor–to deal with my manuscript.  😐
Now to the nitty gritty questions… How many proposals do you peruse a year?
Actually, if I kept count, I'd probably be too depressed to tell you.
Sounds like how I'd feel if I actually counted how many times I rewrite a scene! If you invite an author to submit a proposal or full manuscript at a conference, how long might they expect to wait for a response? What about if an agent submits an unrequested proposal?
See above, on being depressed. The proposals tend to stack up, and I always intend to do better.
How many editors at Revell acquire fiction?
Revell has four acquiring editors, and we all acquire fiction.
How many fiction titles does Revell publish annually?  
We do 30-35 novels a year.
What in a manuscript or proposal might stop you from reading without finishing?
Poor writing…I saw one novel this year that has to rank as one of the all-time worst I've ever seen.  And this person had an agent.  I wondered if the agent even read the writing.  It was that bad.  But I digress. Many rejections come because we don't have openings in the near future in a particular category, we have something like it, we don't do that kind of book, etc.  Any of those reasons will let me stop reading without feeling any guilt.  Rejecting proposals is my least favorite part of this job.  Typos, profanity, things that say, "yes, I will be difficult to work with."
It's so nice to hear that you're not like my villains who delight in thwarting people's plans. Hee, hee, hee.
Do you read most proposals from beginning to end?
No. I read enough to know if a proposal has possibilities for us.  If the answer is no, I long ago quit feeling obligated to read to the end. If I like a proposal and it's something we have a slot for…then yes, I keep right on reading.
What kinds of things catch your attention and make you want to read more?
Good writing; an author who knows us and conveys that he or she understands the publishing business or is willing to learn; something new or a new approach to an old topic, Snickers bars tucked into my computer…just kidding.
~note to self: mail care package of Snickers bars before sending next proposal~
What appealed to you most about Deadly Devotion and the Port Aster Secrets series?
We'd been looking to add to our offerings suspense/romantic suspense/mystery category.  Your writing is strong, your characters are interesting, the setting is unique, and we didn't have anything like it in our list. You'd won an award in your category. So lots of things commended the proposal.  Those are just right off the top of my head.
How many times will you read through a manuscript you're editing?
First draft, one and maybe two times. Second draft…I'm just reading for the revisions I've asked an author to do unless there's been a major revision.  Same with any drafts after that.
Do you prefer to work on paper or on the computer with track changes?
Paper…what's that?  Seriously, I haven't edited on paper for, oh my goodness, I think I just got heart palpitations.  Not since the mid 90s, I think.  1990s, lest you think I'm THAT old.
LOL, I guess now's not the time to mention that I often write first drafts on pen and paper longhand. Now I feel old!
An acquiring editor does so much more than evaluate proposals and edit manuscripts. Could you tell us a little bit about the meetings and events you attend, physically and/or virtually, and your role at them?  (btw, Vicki fixed a wrong word in the question, saying you really can't turn off the editing gene)
Meetings…Revell is amazing in that our four editors live in four different cities in three different states.  Only one, our editorial director, is "in house." So most of our meetings are by phone (we're all live and in person for positioning meetings, sales conference, and strategic planning).  In no particular order: Editorial Board (the Revell editors pitch the cream of our proposal crop to each other to decide what makes the final cut for pub committee); Publishing Committee (that's where editorial, sales, marketing, and publicity come together to make decisions on projects we'd like to contract, with the acquiring editor making the initial pitch); Titling Committee (creative chaos that results in a final title for all our books); Positioning Meeting (3 times a year, we review upcoming titles in each catalog season…this gets us ready for the titling and cover design process and lets us review specs, think about marketing angles and such); Sales Conference (preps our sales team, 3 times a year); Strategic Planning (yearly). And then a couple of writers conferences a year, ICRS, ACFW, and maybe another trip or two.
Whew, that's a lot of meetings!
How many new authors has Revell acquired in the last year or so? Are any of them debut authors? 
I don't have an exact count, but we're always adding authors who are new to us…and who are debut authors.  I'm in the process of signing a debut author right now.
How exciting! Can't wait to hear who he or she is.  🙂 How long from the time an offer is made might an author expect their book to be released?
It depends on our lists and the category, and any number of other factors.  We've been so full in historical romance that one author will have waited almost two years from contract stage.  On the other hand, we had a proposal come in recently in a category where we had an open slot next summer…so this author won't be waiting long at all. In fact, she'll be cranking hard to finish her manuscript.
Do you prefer to see single book proposals or series proposals? Why or why not?
We like long-term relationships, so it's good to know an author has potential for more books.  In fiction, even if it's a stand-alone novel, if an author has additional works in process, a paragraph or two about them lets us know what the author is doing beyond "one book." The caution is avoiding the temptation to list every idea you've ever had…that tells us an author may have trouble focusing.
Is it common for contracted authors to ask for your advice while they're in the middle of writing a novel?
Some do…some don't. I'm always available for feedback any time an author needs/wants it.
Have you ever had to reject a final manuscript, because the author, even after revisions, couldn't deliver what was proposed?
Only once so far in my career…and that was a coauthored situation that did not work out. One of the authors actually asked us to cancel it so he could get out of the arrangement.
Do you have any humorous, memorable or horror stories about editing that you are free to share?
On the advice of my attorney…
Yes, too bad! 😀
If you weren't working as an editor, what would you be doing?
Good question. My hobbies don't pay well as careers, but that's probably what I'd be doing. I love teaching people to kayak. Bicycling magazine had a survey on Facebook today asking for answers to the question "I wish my bike were…"  My answer would have been "…independently wealthy so I could ride it anywhere it wanted to go." Alternatively, I might consider writing or even agenting. People who read my writing say I'm good, so maybe I'd write about my hobbies.
Thanks so much for joining us today, Vicki. I learned a lot, and as always, had fun chatting with you.
Your Turn: Anyone have other questions for Vicki?