As I eagerly await copies of my first book with Revell Publishing, I'd like to introduce you to a few of their recent releases. I'm sure many of you will recognize the names of these popular authors, and I feel honored to be in their company, and to have the opportunity to get to know them better.
According to their website, "Revell began over 125 years ago when D. L. Moody and his brother-in-law Fleming H. Revell saw the need for practical books that would help bring the Christian faith to everyday life. …This same vision for books that are both inspirational and practical continues to motivate the Revell publishing group today," now a division of Baker Publishing.
In the Romantic Suspense genre, they've just released Lynette Eason's When A Secret Kills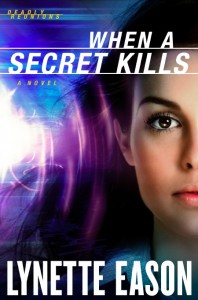 She's come home to put a killer behind bars.
But the killer plans to put her six feet under.
Investigative reporter Jillian Carter knows it's time to put the past to rest. She's tired of looking over her shoulder, letting a killer go free. She's no longer the scared kid who changed her name and disappeared. Now, no matter what the cost, Jillian must do what she is trained to do–find the truth and expose it. And the truth is that Senator Frank Hoffman committed murder ten years ago–and Jillian watched it happen.
Didn't she?
Get ready for the spine-tingling, nail-biting conclusion to this explosive series.
Here's what others are saying:
"A fabulous read! Eason is a master at romantic suspense. I gobbled up the novel in two days and promptly ordered the first two books in the series. Highly recommended!"–Colleen Coble, author of the Rock Harbor and the Hope Beach series
In the Historical Romance genre, Lorna Seilstad's May release When Love Calls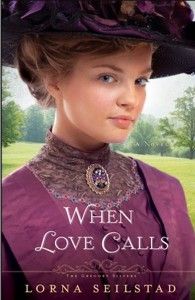 When romance calls, will she choose to answer?

Hannah Gregory is good at many things, but that list does not include following rules. So when she must apply for a job as a switchboard operator to support her two sisters, she knows it won't be easy. Hello Girls must conduct themselves according to strict-and often bewildering-rules, which include absolutely no consorting with gentlemen while in training.
Hannah doubts it will be difficult to keep that rule-until a handsome young lawyer starts getting under her skin.
With historic details that bring to life the exciting first decade of the twentieth century, Lorna Seilstad weaves a charming tale of companionship that blossoms into sweet romance.
And… Julie Lessman's April release, Love At Any Cost.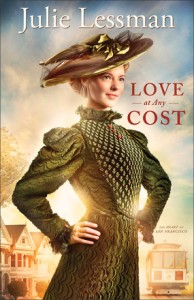 Fooled by a pretty boy once, shame on him.  Fooled by a pretty boy twice, shame on me.
Jilted by a fortune hunter, cowgirl Cassady McClare is a spunky Texas oil heiress without a fortune who just as soon hogtie a man as look at him … until Jamie MacKenna, a handsome pauper looking to marry well lassoes her heart. But when Jamie discovers the woman he loves is poorer than him, Cassie finds herself bucked by love a second time, sending her back to Texas to lick her wounds and heal her heart. In her absence, Jamie discovers money can't buy love, but love built on faith can set a heart free, a truth he discovers a little too late … or is it?
In the General Fiction genre, Dan Walsh's April release, The Dance, written with Gary Smalley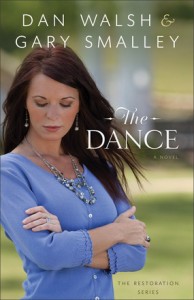 Love's recovery starts with a single step . . .
After 27 years of marriage, Marilyn Anderson is tired of playing the role of perfect wife. Her husband Jim is a successful businessman who gives her everything she needs-a beautiful home in an upscale neighborhood, the financial freedom to be a stay-at-home mom, an enviable collection of stuff. Everything, that is, except what really matters: love.
After years of trying to connect with Jim, Marilyn has had enough. She longs to experience some measure of happiness before she's too old to enjoy it. Needing some time to herself to sort things out, Marilyn leaves to start a new job and take dancing lessons-something she has wanted to do for as long as she can remember.
Shocked to find his wife gone, Jim Anderson must sort through the past to save his marriage. With a little help from an unexpected ally, he begins a campaign to win Marilyn back. What he doesn't anticipate is how his actions will affect everyone around him-starting with himself.
"I believe every person who reads The Dance will be deeply touched and changed for the better. This book is worth your time!"-Jimmy Evans, founder and CEO of MarriageToday and author of Lifelong Love Affair
And Dann A Stouten's April release, The Gate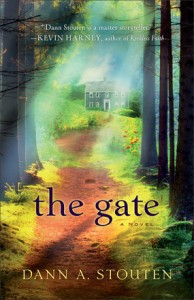 Every life is a story. Schuyler Hunt is about to come face-to-face with the author of his.
When a planned getaway with his wife turns into a shopping trip for the girls, Schuyler Hunt finds himself looking for something else to do. An ad for a vacation cottage catches his eye, and he sets off in search of a much-needed break. When he arrives, he finds something far different from the typical summer home experience. In fact, he may have found a little slice of heaven.
The proprietor-along with a number of unexpected and yet familiar guests-welcomes him with food, rest, and conversation, until what started out as an escape from everyday life turns into something much, much more . . .
Your Turn: What piques your interest in any of these books? Cover art? Blurb? The endorsement? The topic? The author?
P.S. Revell is giving away 5 copies of Deadly Devotion on Goodreads this month. If you're a member of Goodreads, here's the link to enter the giveaway, and/or… to add Deadly Devotion to your "to be read" pile. 😉