I'm delighted at the opportunity to introduce you to Angela Breidenbach's debut fiction book, A Healing Heart. with Abingdon Press's Quilts of Love series.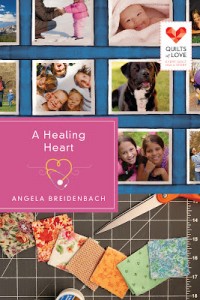 About A Healing Heart:
 What would you do if the one man who can help is the one man you can't trust?
A heart attack has stopped Mara Keegan in her tracks, leaving her daughter's unfinished photo memory quilt hanging by a thread.
Little does Mara know, this quilt—and the memories it bolsters—are the key to her rehabilitation. But Mara's heart needs to be healed in more ways than one. And Joel Ryan is fraying her last nerve. With her daughter's graduation fast approaching, even Mara starts to wonder if she—and her faith—can mend in time. Will Joel's photo find a place on the quilt… and in Mara's heart?
 I asked Angie to share with us what inspired her to tell this story.
Mara Keegan is really every mom to me. She's a workaholic with her kids best interests on her heart, but it's a very damaged heart. Mara gave up her dreams in order to provide for her family. Behind the scenes, I know so many women who have done exactly this sacrificial provision. Personally, I didn't write for ten years in order to meet the needs of other people. But deep in my heart, I was miserable. I wasn't doing what I was born to do.
In writing A Healing Heart, I wanted to heal the hearts of women like me who have given up their dreams. For the longest time I thought I'd never be able to write for publishing, my biggest dream, and be a public speaker. But God has a way of bringing people into our lives that opens the door to those dreams. After all, God put those dreams in us.
A Healing Heart is about helping women find a way back to their true purpose, the one God designed their dreams around. It's about understanding it's never too late to let God heal our hearts and lead us in the path He's set before us.
That is so true. Thank you, Angie.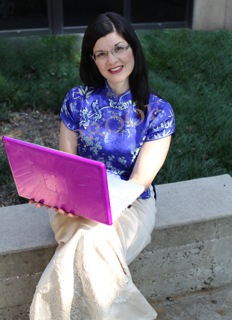 Angela Breidenbach is a speaker, coach, and author of A Healing Heart April 2013 from Abingdon Press in the Quilts of Love series. Her family tradition is to create the life story on a photo memory quilt for each graduating senior. She is certified in mentor/peer counseling as a CTA life coach, as a Stephen Minister, and a weight loss/nutrition coach.
You can connect with Angie at:
http://www.AngelaBreidenbach.com
Twitter/Pinterest: @AngBreidenbach
Facebook Page: http://www.facebook.com/AngelaBreidenbachInspirationalSpeakerAuthor
Get your copy of A Healing Heart
 Your Turn:
What dream have you set aside? Do you think God will provide a way to lead you back to it? Or if you've started on that path, what obstacle did you have to overcome to take the first step toward your inborn dream?
Here's what others are saying about A Healing Heart:

"A Healing Heart weaves tears, cheers, laughter and delightful moments to keep you saying, 'this is my story, my own healing and my own victory.'"—Janet Perez Eckles, author of #1 best-selling Simply Salsa

"As beautifully woven as a keepsake quilt, A Healing Heart wraps itself around you, offering a cozy, heart-tugging story. This is definitely my kind of tale—one that pulls you in from the first page and keeps your emotions engaged throughout. Highly recommended."—Janice Thompson, author of Queen of the Waves