Sightings of Perilous Waters have been confirmed at Walmarts and book stores from Atlanta, Georgia to Calgary, Alberta. And I'm trekking out today to see if I can catch my own glimpse. 🙂
Yes, even though I had a box delivered to my door!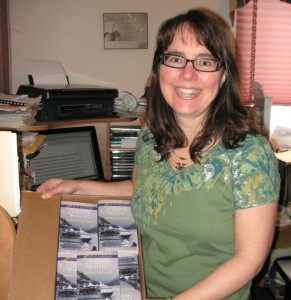 This is my fifth Love Inspired Suspense, and I hope the excitement never gets old.
My 2nd quarter newsletter went out last night, so if you're a subscriber, be sure to check your spam box if you don't see it in your inbox.
Why?
Because I randomly choose a subscriber's name to receive a free book, but…the onus is on the winner to contact me.
And yes, I have had winners miss out.
And yes, I'm totally bribing you to read the newsletter. 😉
Aspiring writers will also want to check out the subscriber-exclusive article on writing subtext.
In other housekeeping news: Sam Steele, hero of Perilous Waters, was interviewed yesterday at Craftie Ladies of Love Inspired Romance if you'd like to check it out.
Your Turn: I'm currently working on the third connected book, and Sam is on his honeymoon. Any suggestions where I should send him?
P.S. If you'd like to subscribe to my quarterly newsletter, to receive notices of book releases, special deals, and subscriber exclusive short stories, click her to subscribe to Sandra Orchard's Newsletter.