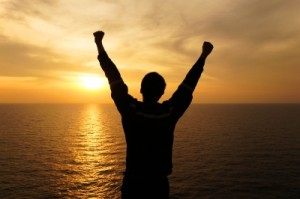 Today marks the end of another exciting winter Olympics and, once again, in Canada at least, national pride and spirit is at a peek. Many of us rose early to watch the final hockey game and celebrate our men's team bringing home the gold.
Throughout the games, I loved watching the faces of athletes and their friends and family when they won. Sometimes they would beam. Sometimes they'd cry. Each one's experience was different.
But there was no mistaking the exhilaration felt by all who shared in their victories.
It got me thinking about how as a believer…
Every morning should start with the arm-pumping exhilaration of being part of the winning team. 
Because as believers we are!
As the apostle Paul writes in his first letter to the Corinthians: "thanks be to God! He gives us the victory through our Lord Jesus Christ. Therefore, my dear brothers, stand firm. Let nothing move you. Always give yourselves fully to the work of the Lord, because you know that your labor in the Lord is not in vain." (I Cor 12:57-58 NIV )
And in his letter to the Philippians, he writes, "Forgetting what is behind and straining toward what is ahead, I press on toward the goal to win the prize for which God has called me heavenward in Christ Jesus." (Phil 3: 13b-14 NIV)
Don't let defeats weigh you down. Persevere through them, as we've seen our countries' athletes do to reach these Olympics, knowing it's not in vain.
Your Turn: What are you celebrating?
Image courtesy of suwatpo / FreeDigitalPhotos.net