Welcome to my first newsletter of 2012. I hope you are enjoying a healthy and joy-filled new year.
I'm thrilled to report that my year is shaping up to be amazing!!!
Here's the story… Way back in June of 2010, three months before Love Inspired contracted me to write my Undercover Cops series, my agent sent a three-book proposal to a number of trade-length publishers. And…
Last week one of them made me an offer!!!
I'm not shouting this from the rooftops, yet, because I haven't signed the contract, but my agent said it would be okay to share that much. Yee! I received the news on the day before my son graduated from his apprenticeship training so we had a wonderful weekend of celebrating together.
This happened a week after this amazing article appeared in the paper: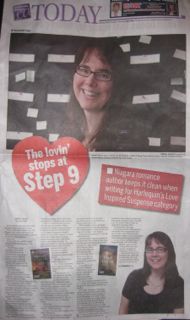 I couldn't have prayed for better local promotion for my upcoming release. God has been blessing my writing in so many ways!
NOW IT'S TIME TO GIVE BACK
but first let me clarify, because I know I confuse people when I start giving away books before the book actually releases.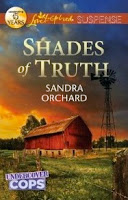 Shades of Truth will hit American and Canadian bookstores (including Walmarts, grocery stores etc) around March 13th and will be on the shelves until they're sold or until early April, whichever happens first. Bookstores will order in copies upon request as long as they are still available.
But… the novel is available NOW from Harlequin. Click Here to order at 20% off, and use coupon code FREESHIPAFFO to receive free shipping until Mar 31st.
GIVEAWAY # 1
From now until March 4th, I have a giveaway going on at Goodreads open to residents of Australia, Great Britain, Canada and US. If you'd like to enter, the link is:
http://www.goodreads.com/giveaway/show/21413-shades-of-truth
For those not familiar with Goodreads, it's a home for casual readers and bona-fide bookworms alike. Users recommend books, compare what they are reading, keep track of what they've read and would like to read, find their next favorite book, form book clubs and much more.
GIVEAWAY # 2
The winner of this newsletter's giveaway of a copy of Shades of Truth is
Please email me your mailing information or if you prefer an Ebook that will work, too.
MORE GIVEAWAY OPPORTUNITIES
I'm giving away a copy on the March 4th spot for sure.
FUN CONTEST FOR THE CAREFUL READER
I belong to a writing group called WODE (Writers Off the Deep End). They challenged me to include our name in my novel. So I did. If you find "WODE" in Shades of Truth, email me your name, the page number, and the version of book (regular print, True Large Print, Ebook version etc).
I'll be drawing a name from everyone who writes in and will announce the winner in my June newsletter. The winner will receive a $25 gift certificate to the book retailer of their choice.  
UPCOMING BOOK SIGNINGS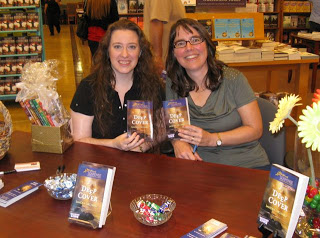 This is a photo of Eva Maria Hamilton at my debut book signing. 
Eva is from Ancaster (only 45 minutes from where I live) and her Love Inspired Historical, Highland Hearts, debuts in March. So… we're doing a couple of book signings together. 
Saturday, March 17th  2 – 4 pm
@ Coles in the Limeridge Mall in Hamilton 
and on
Saturday, March 24th  1 – 3 pm
@ Heritage Christian Bookstore in the Grantham Plaza, St. Catharines
as I did at last year's signings, I will have a basket of books that will go to one lucky visitor
 Thanks so much for sharing this writing journey with me. If there's something you'd like to see in the next newsletter, please let me know. In the meantime, I wish you all the best and invite you to continue to connect between newsletters at: Conversations About Characters or on Facebook
Feel free to forward this email to someone who you think might enjoy it. If you received this email from a friend and would like to subscribe, click here.