Someone keeps stealing my seat!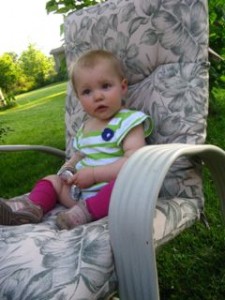 My little granddaughter has decided that its great fun to sneak onto my chair the second I leave the room. She watches me expectantly when I return, anticipating being tickled and scooped into my lap.
Then there's my daughter's cat who also keeps an eye on my chair, and when my granddaughter is not around to do so, takes over my spot, even if he had a perfectly good spot on the sofa.
Trouble is when I return and tell him to get off, he goes all limp like a protestor trying to thwart riot police. I scoop him up and dump him on the floor. No cuddle to encourage such behavior from me. No sir.
All this seat stealing got me to thinking about thrones…or maybe it was the Sunday School lesson about Esther approaching the king's throne uninvited not knowing if he'd reach out his scepter or demand her death.
Anyway, I realized that the hero of Fatal Inheritance (the book I was reading page proofs for this past week) is a bit of a seat stealer, too. In most areas of his life, God's on the throne, but when it comes to finding a wife…the hero's not so sure. Oh, he wants his choice to be God's choice, but he has a pretty rigid mental checklist of what that choice should look like.
Admittedly, I'm a bit of a seat stealer myself sometimes–when my priorities for how I spend my time don't match God's.
But unlike how I am with my granddaughter or with my cat, God doesn't cajole His seat back or take it back by force.
He waits to be invited. And because He's my Daddy-King, He then lets me clamor onto his lap for a good long chat, and I wonder why I ever stole His spot in the first place.
Ever feel that way?