With the arrival of September, you'd think my mind would be turning to the routine of Fall, but here in Niagara, we're enjoying one of our most "summery" weeks yet, after a peculiar roller-coaster ride in the weather department over the last few months. Would you believe I actually had to turn the heater on in my office last week?!
So…I'm planning swim dates every afternoon with the grandkids.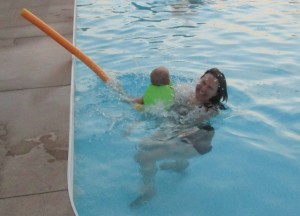 Always a splashing good time!
Did I mention we have a new grandson?!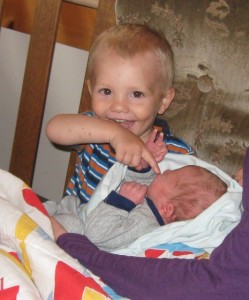 He's a big hit with his big brother.
And is the reason I haven't been too talkative around here lately, as I've been enjoying having my two eldest grandchildren visit. Of course, many of you caught my odd post to FB, when I managed to snatch a few minutes to share a picture. I do so enjoy celebrating these blessings with all of you.
My autumn is showing no sign of slowing down with a wedding for my son in the works, but I promise to keep writing, between all the tempting distractions. 😆 Babies are so fun too cuddle and they grow up so fast.
I hope you have also enjoyed a blessed summer (winter for my friends in the Southern hemisphere).
Your Turn: I'd love to hear about your summer escapades or plans for the upcoming season!
P.S. If you missed it, I was also blessed to be interviewed with the Christian Fiction Online Magazine last month. If you'd like to read the interview, please click the cover image below.