So…here it is mid-Spring in Niagara, flowers are blooming, the trees are leafed out and the birds are tip-tapping at the window, and…it's snowing!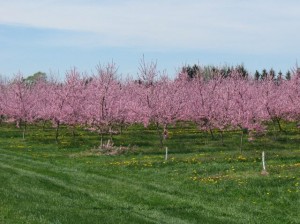 But…on the bright side, if it were a beautiful, sunny, warm spring day like the day I took the above picture, I wouldn't feel like polishing the manuscript that's due in two weeks or reading the page proofs for another book in the pipeline or working on a new proposal for the next book.  😉
And my sweet hubby has fired up the old wood stove, so this is turning out to be a nice cozy afternoon. Of course…the real excitement starts this evening when I get to babysit my grandchildren. 😀
By later tonight, I should have a fun photo or maybe even a video to add to the bottom of this post. The children have discovered that their Poppy can video them in front of a green screen and send them to the moon or to wherever they like.
Okey dokey…I've procrastinated long enough. Have a great week!