If you've read any of the Serena Jones mysteries, cast your vote for your favorite man in her life. Feel free to add a comment, too.
Hmm, this is a static image of the voting grid I used to have here.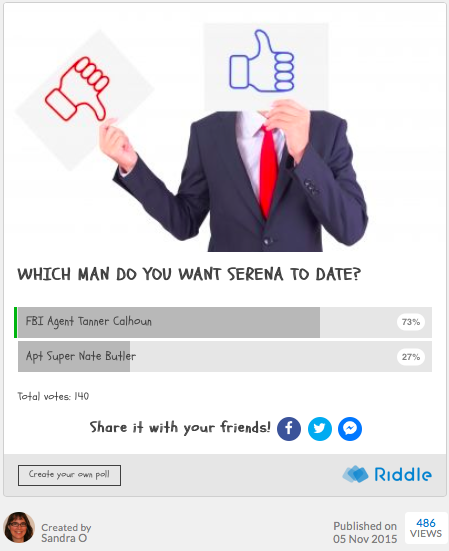 I just realized it disappeared from my page and I'm not sure why. Problem with the plugin, I suspect. Until I figure out how to fix that, you can add your vote to it here: https://www.riddle.com/view/17669
Here's a quick recap of the choices:
Ten years older than Serena, Tanner Calhoun is a dedicated agent, quick-witted and protective.
Nate Butler is an easy-going animal lover, who shares Serena's love of art, a well-brewed cup of tea and old movies.
Still can't decide?
Check out this blog from a Team Tanner fan and this one from Team Nate's fan club president. 😀
Please Note: The final book in this series, Over Maya Dead Body, has now gone to my publisher (releases summer 2017), so although your vote can no longer influence it's outcome, I'd still love to read your comments!