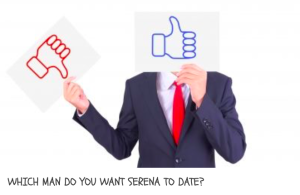 The vote for your favourite man in Serena Jones's life has ended. We continued to collect votes for a few years to see if the "winner" changed as more readers discovered the series, but the app I used to tally votes is now obsolete.
I won't tell you who won, because I don't want to spoil the series for you. But I'd still love to hear your comments. (However, if you've read all 3 books, please don't include any spoilers.)
Those who've read all the books are invited to enjoy our Spoiler Alert-Facebook Chat Group about Serena Jones.
Here's a quick recap of the choices:
Ten years older than Serena, Tanner Calhoun is a dedicated agent, quick-witted and protective.
Nate Butler is an easy-going animal lover, who shares Serena's love of art, a well-brewed cup of tea and old movies.
Check out cast pics here: https://www.pinterest.ca/AuthorSOrchard/characters-~-serena-jones-mysteries/
Still can't decide?
Check out this blog from a Team Tanner fan and this one from Team Nate's fan club president. 😀