Start late and leave early is my motto for suspenseful scenes. New writers often tend to start far too early in their story, not a good thing if the editor considering it is only assessing the first three chapters and the story doesn't ramp up until chapter four.
This is more common than you might think!
We tend to fill the opening chapters with setup and backstory that the reader doesn't need yet. Assess your manuscript and see if it would be stronger if you started the novel later.
Then assess each scene with the same question in mind.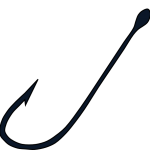 The best way to hook the reader into a book or new chapter is to start at a point in the middle of an incident that will offer a glimpse into the character's thoughts (motivation) and show why what's about to unfold is important.
On the leave early side, this is to discourage readers from putting down the book at the end of a chapter. If I can leave the reader wondering what will happen next, chances are good she'll keep reading. If at all possible, I'll then try to not give her that answer at the opening of the next scene, but to take her somewhere different, so she needs to keep reading even further to find out.
Yes, I'm as cruel to my readers as I am to my characters. 😉
Happy writing!
Let me know if you found this helpful or have any questions in the comments below.