I'm pleased to announce that my next instalment in the Scottish Bakehouse Mysteries has shipped to subscribers from Annie's Fiction.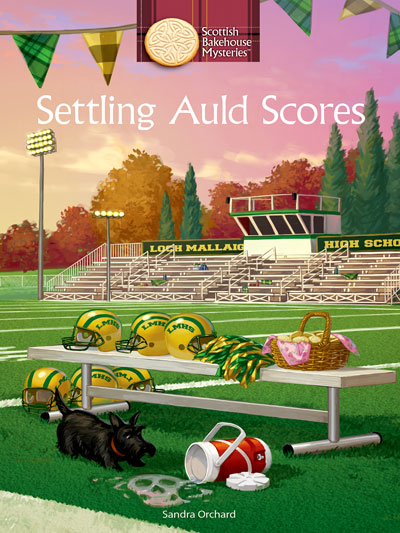 Aye, I've had a right braw (wonderful) time contributing to this series. Admittedly, at first I dinnae ken (didn't know) if I'd feel at home in auld Loch Mallaig. But once I had a right old blether with the bonnie lads and lassies in town, I could hear the Scottish accent in every line. But don't worry, only the odd Scottish word made it into the book. After all, I wouldn't want my readers to think my heid's full o' mince. (every word that comes out of my mouth is non-sensical) 😀
About Settling Auld Scores by Sandra Orchard
As Bread on Arrival's head baker, Laura Donovan is used to scoring touchdowns in the kitchen, especially when she teams up with her best friends and business partners, Molly Ferris and Carol MacCallan. However, when it comes to parenting, unmarried Laura is a true rookie. While her brother and his wife are out of the country, Laura has agreed to host her teenage nephew, Henry, an up-and-coming football star now playing for the Loch Mallaig High Loons. Laura suddenly finds herself on defense as the safety of Henry and his teammates is tested by a persistent prankster, and Laura worries that her nephew is the main target.
From vindictive rival coaches and jilted former players to lovelorn teens intent on revenge, Laura's roster of suspects seems endless. And as the pranks become more dangerous at every turn, Laura fears that a truly deadly incident could be next. She must take the offensive prankster out of the game before the clock runs out—or else someone could face sudden death.
Click to learn more about the Scottish Bakehouse Mysteries Bookclub from Annie's Fiction.
More Scottish Bakehouse Mysteries by Sandra Orchard