Today we're going to talk about the hero in Eva Maria Hamilton's debut Love Inspired Historical, Highland Hearts.
I read the book last week. What a treat! Here's a brief description before we chat: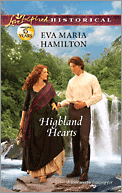 Logan McAllister survived years of indentured servitude in America to reach this moment. Now he's returned to Scotland, ready to redeem the secret promise from Sheena Montgomery's father—that five years as a servant would earn him Sheena's hand in marriage. But when he arrives home, he learns that Sheena's father has died, his contract has been lost…and Sheena is engaged to another man.
Sheena has spent the past five years trying to forget Logan, the man who abandoned her with no explanation. She won't listen to his protests that he loves her—has always loved her. It'll take more than empty promises to win her back…and to prove that his highland heart is hers forever.
I greatly admire this hero. Logan loved Sheena so much that he was willing to do anything to gain her father's permission to wed her, even selling himself into what amounted to slavery.
And although I hate that he never told Sheena why he was leaving Scotland, I admire the kind of integrity it took to honor her father's conditions rather than divulge the secret to the woman he loved, a woman he could have trusted to not betray to her father that she knew.
So here's our question for discussion…and this week, I'll be giving away a signed copy of Highland Hearts to one of our participants so don't be shy!
Your Turn: When have you challenged yourself and pushed yourself to your limit to accomplish something important to you? Did you succeed? Was it worth the effort?
Or…
if you haven't felt challenged in this way, what kind of circumstance might drive you to push yourself to the limit to achieve your desired goal?