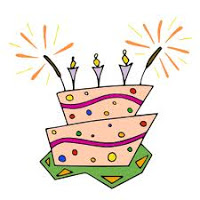 We celebrated my daughter's 19th birthday this past week.
In one more year, I won't have any teenagers left in my house, and I'm kind of sad about that. I've thoroughly enjoyed my kids' teen years.
Of course, my eat-everything-in-sight puppy will likely have graduated to the teenager stage by then!
Ugh, she's already baying come-hithers to all the local coyotes.
But I digress.
We've enjoyed a few fun milestones this past year, starting with the birth of our first grandchild. Children milestones come fast and furious…first smile, first belly laugh, first tooth, first word…
I'm still trying to coax my grand daughter to say that all-important "Nana". According to my baby book, I said it at 7 months so I'm thinking it'll happen any day now!!!
Of course, the release of my debut novel was a huge personal milestone for me this year. Next year I'm looking forward to another biggie–our 25th wedding anniversary!
We still haven't decided how to celebrate that one. Any suggestions?
Your Turn: Have you celebrated any milestones recently? How do you celebrate important milestones?
P.S. Please join me Monday, for my daughter's insightful guest post on what's in a name. Whether you're a writer or a reader or an expectant mom, it'll make you look at names in a whole new light!