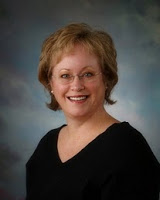 I first met author Missy Tippens at a conference a few years ago and she's as sweet as her book. In addition to being a wonderful writer, she's the mother of three, wife to her pastor husband and an adjunct instructor at a local technological college in Georgia.
I've invited Missy here today to share an interview with Hannah Hughes, the heroine of A House Full of Hope.
1. What's the most important thing in your life?
Without a doubt, the thing most important to me is my four beautiful children. They're my pride and joy!
2. What do you like to do with your children?
I love to play hide-and-go-seek with the kids. And to read to them. I don't have much time for free time, but if I did, I'd love to take them for a day at the beach.
3. What are you afraid of most in life?
I fear not being able to provide well for my children. Since I'm a widow, it's tough to provide for them in the way I'd like. I want them to have a nice home with lots of room. I'm working toward owning a home to help give them a place to feel secure.
5. Beside your kids, what is the most important thing to you, personally?
Feeling secure and loved. Feeling like I'm important to someone. I guess it's part of my "baggage" that I continually have to deal with. 🙂
6. Do you read books? If so, what is your favorite type of book?
Who has time to read?! 🙂 Right now, my favorites are the books I read to my children.
7. If you could change one thing about yourself, what would it be?
I'd worry less and trust God more.
8. Do you have a pet?
We have a pet on our rental property that the kids have pretty much adopted. A black Labrador retriever named Blue. He's into everything and about drives me crazy! But I'm growing more and more attached to him.
9. What's your favorite childhood memory?
I'd have to go way back to elementary school–before my parents started having trouble and my sister got involved in the wrong crowd. I have good memories of laughing a lot with my dad (teasing my mom about being so uptight). And great memories of family vacations at the beach.
Wow, I can so identify with Hannah, right down to the dog that drives me crazy. LOL. Is it any wonder I enjoyed the book so much? One of the things that drew me to Christian fiction in the first place and inspirational romance in particular was seeing the characters face similar circumstances to what I was facing or circumstances I feared (losing a spouse) and overcoming. They inspire and give hope. 
Your Turn: How has a book inspired or given you hope in your circumstances or fears?  
Btw, A House Full of Hope is now in stores or you can order it directly from Harlequin. Use this link and coupon code SAVE10AFFO to receive an extra 10% discount off its already discounted prices before 3/31/12. 
I'm also giving away a copy on Friday to one of my commenters from Monday's or today's post. Be sure to check back on Friday.