Harold has stopped by for an exclusive interview!
For those who haven't read the Serena Jones Mysteries or if you've forgotten the characters, Harold is Serena's lovable cat adopted along with the apartment from Aunt Martha.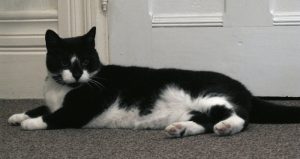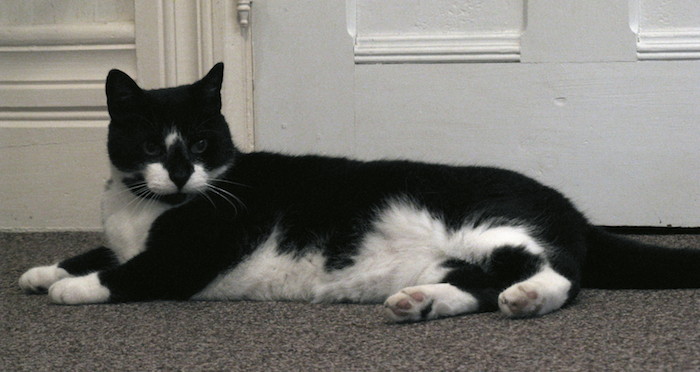 Harold, in your first interview, after the release of A Fool and His Monet, you complained that you never got to see Serena in action. But that all changed in Over Maya Dead Body. Tell us about your trip to Martha's Vineyard.
It was great. Well, except for those creatures on the beach with those nasty claws. <shivers> But the sweet feline I met made up for that. <purrs>
<gives his paw an absentminded lick>
Oh, and I was instrumental in finding important clues to solving the mystery.
Wow, that's impressive for your first time in the field.
Purrs.
Now this was the big book a lot of readers were waiting for, because Serena finally falls in love. Were you happy with the man that ended up being?
Hmm, in my last interview I mentioned sneaking on Serena's computer and voting for a certain someone, since you were letting readers dictate the outcome and all, so my answer could be a spoiler for anyone who hasn't read Over Maya Dead Body, don't you think?
Good point. You're a smart cat.
Purrs.
A number of secrets were revealed in this book. Did you know them already?
<emits an amused snort> As long as I get two square meals a day and a warm bed to sleep in and a decent backrub now and again, I don't get worked up about much else.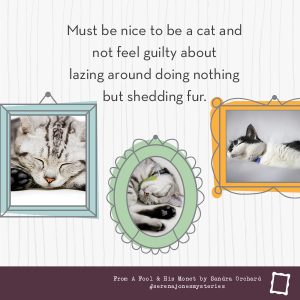 However . . . I will divulge something that isn't in the book.
Oh, really? What's that.
I'm going to ask that sweet feline you brought into my life to be my Valentine. 😎
Ah, I'm sure she'll be pleased.
Readers, if you've read Over Maya Dead Body, (and you're on Facebook), I have a Valentine's surprise for you too. Join our private Chat About Serena Jones Facebook group to read an alternate romantic scene between Serena and the man she doesn't choose in the end.
Click here to read more fun interviews, including Harold's first one.
Coming Soon:
From Feb 19-26, I'm participating in a BookSweeps event for Mysteries with Humor. Subscribe to this blog to be sure not to miss the entry link, or come back Feb 19th to find it.
SaveSaveSaveSave
SaveSave