My third novel, Critical Condition, appeals to both medical suspense aficionados and romantic suspense readers.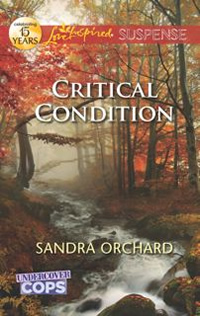 RT Book Reviews awarded Critical Condition the 2012 Reviewers Choice Award, saying: "Well-developed characters and fast-paced action keep readers fully engaged in this wonderful tribute to spouses struggling with a loved one's illness."
Back Cover Blurb:
A nurse. An undercover cop. A killer who'll stop at nothing to avoid being caught.
EVERYONE'S AT RISK There's a murderer in the hospital, and nurse Tara Peterson is determined to prove it. With mysterious deaths in the cancer ward, anyone could be next. But no one wants to believe her…except for undercover agent Zach Davis. The murderer wants Tara's suspicions silenced, permanently. To protect Tara, Zach lets her in on his secret, and unwittingly into his heart. Tara and her three-year-old daughter are like the family he lost years before. Zach will risk everything to keep them safe, no matter the cost.
Medical Suspense Giveaway
I'm giving away a print copy of Critical Condition or another of my undercover cop novels, this month. Are you interested? Let me know in the comments.
Psst…Shop at Harlequin on Fridays for more Free Books
And buy Identity Withheld, for only $1.99.
Leave a comment there for another chance to win!
I'll post later in the day tomorrow and announce our second book recipient then!
⇓STILL TIME TO ENTER⇓