HAPPY NEW YEAR!!!
I'm delighted to have author Jessica R. Patch and the hero and heroine from her debut Love Inspired Suspense, Fatal Reunion, with me today. I've had the privilege of being a guest on Jessica's blog a few times, answering her "Would you rather" questions on behalf of myself and my characters, so I'm thrilled to now be able to turn the tables on her and ask the questions of her!
To orient us, here's the back cover blurb for Fatal Reunion: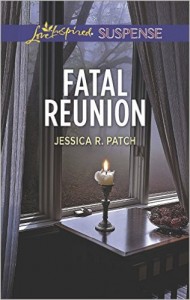 WRONGLY ACCUSED
When her beloved grandmother is almost killed during a home invasion, Piper Kennedy isn't surprised that she's a suspect—especially since Luke Ransom is on the case. The handsome detective she once loved thinks she knows more than she's telling about the attack. And given her crooked past and the heartbreaking way she'd been forced to betray Luke years ago, Piper understands why he doesn't trust her. But when attempts are made on her life, Luke insists on keeping her safe and finding out who wants her dead. And Piper and Luke soon realize a remorseless criminal will do anything to keep them from the truth…or an unexpected second shot at a future.
Piper is such a cool name! And let me just add: I had the chance to read this book last week. Two things that made it particularly interesting for me were Piper's unique occupation–she's a karate expert and dojo owner, a skill that comes in handy a few times in the story  😉 –and Jessica managed to add twists I didn't see coming, which is always a fun surprise!
Okay, on to my questions for Jess and her characters:
Would you rather have loved and lost or never have loved at all?
Luke: That's tough because I have loved and lost. I guess loved and lost because I can't imagine not ever loving Piper.
Piper: I'd say love and lost since I never really experienced romantic love before Luke. Just people who said they loved me but only wanted to manipulate me.
Jessica: Loved and lost. I think everyone needs to experience love. And heartbreak can be healed.
Agreed. 😉
Would you rather change the past or be able to see into the future?
Luke: Well, asking me that today I'm saying change the past so I could have done things differently concerning Piper. Had you asked me that before Piper came back into my life, I'd say see the future—I'd want to know if I was ever going to fall in love again. Not that I believe I ever could have.
Piper: Luke, you are so sweet, but I know you're buttering me up for a puppy. Okay, now to answer the question. I don't want to know the future. But there are so many things in my past I would love to have done differently. For one thing, not getting involved with Chaz Michaels and his crew.
Jessica: I'm with Piper. I don't want to know the future, unless I can change something bad that might happen to one of my children. But I would like to change a few mistakes I've made.
Ooh, do tell… 😛 
Would you rather get stuck in a broken elevator or stuck on a broken ski lift?
Luke: Ski lift. I want to snuggle with my honey under a blanket….and with our puppy. wink wink
Piper: LOL! Elevator. With a puppy we're only watching for one day. Then when you have no way to clean up the mess, you're reminded of why I said I didn't want pets. (Luke: You're harsh.)
Jessica: Definitely an elevator because I hate the cold and heights. Although, if I happened to get stuck with Luke, Piper, and a puppy…scrunches nose
Hmm, I'm with Luke, although a squirming puppy up there could make it a tad dicey!
Here's more about Jessica: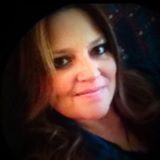 Jessica R. Patch lives in the mid-south where she pens inspirational contemporary romance and romantic suspense novels. When she's not hunched over her laptop or going on adventurous trips in the name of research with willing friends, you can find her watching way too much Netflix with her family and collecting recipes to amazing dishes she'll probably never cook. Her novel, Fatal Reunion, releases with Love Inspired Suspense in January, 2016. She is represented by Rachel Kent of Books & Such Literary Management.
Links:
Get Patched In! Jessica's newsletter subscribers get first looks at book covers and excerpts as well as receive notifications of new book releases and other cool news. Sign up at www.jessicarpatch.com
Join in the conversation on Facebook https://www.facebook.com/jessicarpatch
and Twitter! https://twitter.com/jessicarpatch
Check out Jessica's Pinterest story board where you can meet the cast of Fatal Reunion and peruse some of the scenes set in the book. https://www.pinterest.com/jessicarpatch/fatal-reunion/
Your Turn: Answer one of the questions I posed to Jessica and her characters for a chance to win a copy of her book. (winner will be randomly drawn from comments  made before midnight EST Jan 9, 2016