Emergency Reunion, novel #10 in my countdown, is another in which I learned so much while researching the heroine's occupation. She's a paramedic quietly battling PTSD. It's also a reunion romance, which are always fun to write, since the hero and heroine already have some history from the outset.
You can read an excerpt of the story here: Emergency Reunion Excerpt by Sandra Orchard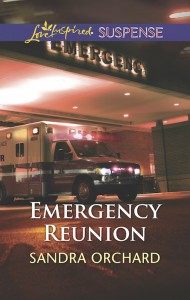 The heroine of this story is the cousin who made a cameo appearance in Identity Withheld, which…not wanting to sound like a broken record, but if you haven't heard…is on sale for $1.99 (at Kobo, Amazon, Google, B&N) for a few more days.
Review of Boughs of Folly
Please visit Pat Bradley's blog where she is sharing her review of my upcoming release, Boughs of Folly.The 3-book Jingle Bell Mysteries bundle will soon be available from Annie's Fiction.