"Shh." I glanced from side to side. "It's a little known secret that authors think their characters are–uh, hum, there's no less absurd way to say this than just to flat out admit it–real. They think they're real!"
Case in point: I invited Patricia Bradley to interview her character for today's blog, and…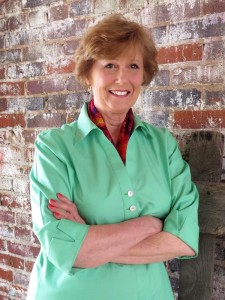 This is the scenario I walked in on:
"You busy?" Pat said to the hero of her latest novel, Gone Without a Trace.
She looked from his computer to the doorway. Alex Jennings leaned against it, a frown on his face. "A little. Do you have a problem?"
"No. I just want to hang out."
I could tell this bugged her. She's confided in me more than once that she hates it when characters won't tell her what's wrong, when she has to drag it out of them. She closed the top on her Macbook. "Spit it out."
"Spit what out?" He stepped into the room and moved a research book from the Queen Anne chair beside her desk (a very nice chair I might add) and then sat down. Of course, his 6'2" frame looked ridiculous in it.
"Hold on a sec," she said, and exchanged places with him. "Now, what's wrong?"
"Nothing." He crossed his arms and stared out the window.
She waited. Although I noticed her toe impatiently tapping.
After two minutes of staring, he turned to her. "What am I doing in Logan Point, Mississippi? I'm a Texan, all the way back to the Alamo, and Texans belong in Texas."
"You don't like Logan Point?"
"I didn't say that." He smiled. "Actually, it's a great little town. And I love Kate's B&B. Did you know that woman can do some cooking?"
"Hmm. I think I knew that. So, what's the problem?"
Alex pressed his lips together. "It's that detective you paired me with. Livy Reynolds. She's driving me crazy."
From the slight curve in Pat's lips, I could tell that warmed her heart, but she managed to restrain a full blown smile. "Exactly how does she do that?"
"She's going to organize me to death. Have you seen her lists? That woman makes a list for everything. And that's not all. She.Is.A.Control.Freak."
"And you're not?"
"Hmph."
She doodled with her pencil. "Do you like anything about her?"
A gleam lit his eyes. "Have you seen her with Abby? That little girl has Livy hogtied." He tilted his head. "And she has courage. She's pretty, too."
"So it's not all bad?"
His eyes widened. "Uh, uh. You're not going to—" He jumped up and palmed his hands up . "No. Don't you dare try to get us together. Not happening. Not in a million years. She's too bossy. And she hates flying."
"If you say so." She took her chair back and shooed him out of her office.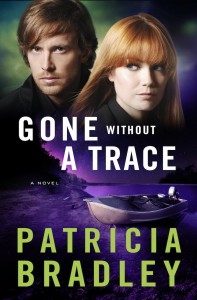 I slipped out of my hiding place behind the curtain to find Pat madly typing. "What's up?" I asked.
She laughed sinisterly. "I just figured out another way to torture the both of them!"
Wasn't that fun? (Okay, I might've made up her sinister laugh. Pat is really quite sweet even if she does love to torture people, ur, characters.)
Patricia, thanks so much for giving us a behind-the-scene glimpse of your character development!
Blog readers, if you love romantic suspense, you'll enjoy this book. I was ridiculously pleased to have figured out whodunit before the end, but…Pat still managed to make me think I might've gotten it all wrong in those tense last chapters.
Pat hails from Mississippi, where I've never been, but I've enjoyed vicariously visiting the Deep South through her novels. I had the privilege of rooming with Patricia at last year's Writer's Police Academy and have to say that honoring God through her writing is her number one priority. Gone Without a Trace is the fourth book in her Logan Point Series from Revell, and…
I'm giving away a copy of Gone Without a Trace.
Answer one of these three questions in the comments to enter:
1) Where would you rather live Texas or Mississippi?
2) Do you make lists? How much do you put on them–as detailed as eat breakfast & brush your teeth or just the big projects?
3) How long do you think a couple should date (or know each other) before they talk marriage?
Thanks so much for visiting today! I hope you enjoyed meeting Pat and Alex. You can learn more about Pat at her website: http://patriciabradleyauthor.com/ or connect on Facebook.
And…for first time visitors to my site, check out Deadly Devotion, book one in my Port Aster Secrets series, also from Revell Publishing. It's currently free in Ebook format at online retailers!