My first few published novels were all inspirational romantic suspense titles for Harlequin's Love Inspired Suspense line. And with the release of my 25th novel this month, I'm revisiting a novel a day as part of my silver celebration.
If you enjoy reading romantic suspense, and haven't read this one yet, check out Shades of Truth–a Harlequin bestseller.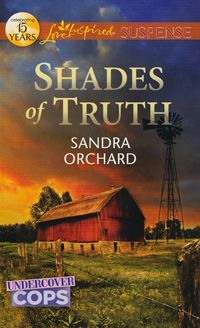 Although first released in March 2012, you can still purchase Ebook versions for kindle, nook or Kobo etc. As an extra bonus, Harlequin has temporarily dropped the price on another of my titles, Identity Withheld, in honour of my celebration. Don't miss this great deal at $1.99.
Back cover Blurb:
A compassionate youth worker fighting to preserve her dying father's legacy battles the justice-driven detective who threatens her mission and her heart.
Big city detective Ethan Reed is working deep undercover at a Christian youth detention center. The kind of place he spent some harrowing time in as a kid. Ethan's mission: ferret out who's recruiting resident teens for a drug ring. He expects help from the lovely, devoted director of Hope Manor. But Kim Corbett won't tell Ethan anything— even when she's threatened and attacked. When Ethan discovers what Kim is protecting, his guarded heart opens just a bit wider. Enough to make this the most dangerous assignment of his career.
Have you read my romantic suspense titles?
I'd love to hear which one was your favourite and why. Let me know in the comments. I have 5 more romantic suspense titles contracted. The first two release in February and September next year.
25 Book Giveaway!
Of course no celebration is complete without gifts. And I'm giving away 25 books this month.
If you haven't already, be sure to enter the rafflecopter giveaway for one of 10 copies of my 25th book, Boughs of Folly, a Christmas-themed cozy mystery.
Be sure to drop by each day, because there are more freebies and giveaways to come.