2021 marks the beginning of a new series from Annie's Fiction
The series is called Sweet Intrigue and features standalone romantic suspense. I'm super-excited to be amongst the many authors writing for this 12-book club.
When you subscribe to the club, you'll receive one hardcover book every four weeks (or an Ebook if you prefer), starting with Betrayal of Trust by DeAnna Julie Dodson.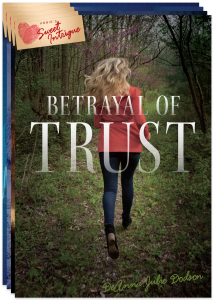 About Betrayal of Trust:
Grieving widow Julianne Montgomery is starting over in the Midwest town where she grew up. Still reeling from the recent death of her husband, nothing could've prepared her for the shock of seeing him show up at her door late one night, very much alive, injured, and insistent that she's in danger.
Are you intrigued?
My first contribution to the series is Dangerous at Heart . I don't have the cover art or official book blurb to share with you yet, but those details will be coming soon. The book releases April 16th, 2021
About Dangerous at Heart by Sandra Orchard:
After the police pin the fatal hit-and-run of their town's beloved doctor on a dead man, witness Laura Brennan teams up with the doc's nephew, Garrett Simons, to find the real killer. But when Laura asks her cousin, an aide to the state senator, to use her political pull to help them, her cousin disappears. What they discover in their search for her cousin, and for the truth, is a web of lies, corruption and coverups, surrounding the state's largest manufacturer and perhaps the senator herself. But can they ferret out the facts and figure out who can be trusted to bring the perpetrators to justice, before they're silenced too.
If stay-at-home orders have you down,
this might be just the series you need to get your blood pumping. Best of all, it will be delivered right to your mailbox, or inbox. 🙂 You can also cancel at anytime.
Go to Annie's Fiction for all the details about how to join the club.