Looking for a new romantic suspense series to read? Or a book to discuss in your book club?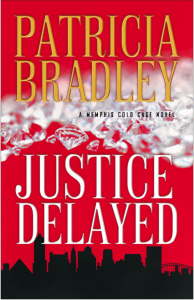 Justice Delayed might be just what you're looking for.
Back Cover Blurb:
In one week, the wrong man will be executed for murder.
Let the chase for the real killer begin.
Eighteen years ago, TV crime reporter Andi Hollister's sister was murdered. The convicted killer sits behind bars, his execution date looming. But when a letter surfaces stating that the condemned didn't do the crime, Detective Will Kincaide of the Memphis Cold Case Unit will stop at nothing to help Andi get to the bottom of it. After all, this case is personal: the man who confessed to the crime is Will's cousin. Andi and Will must find the real killer before the wrong person is executed. But what can happen in only a week? Uncovering police corruption, running for your life, and, perhaps, falling in love?
My Review:
I really enjoyed Bradley's last series and this introduction to the new "Memphis Cold Case" series is equally promising. Bradley incorporated more investigators/sleuths in the case than we typically get to see. Some even enjoyed scenes from their own point of view. It made for an interesting multi-faceted book, although occasionally it meant the reader was hearing similar information two or three times and I found myself flipping back to find out who already knew something and who didn't. On the flipside, I am now really interested in all of these characters and hopeful that future books in the series will spotlight each in turn.
Bradley does a great job of showing the reactions of family members coming to terms with learning the man they've believed guilty of their loved one's murder for the past eighteen years may be innocent, as well as facing truths about her they couldn't believe. While I didn't love the heroine Andi, I did find her actions believable given that she was under the influence of too many painkillers. It is a good wakeup call to how easily and quickly addiction can happen. By the end Andi does start to see the folly of her choices and I like that Bradley doesn't make Andi "all better" unrealistically quickly to tie the ending in a neat bow. Hopefully we'll glimpse Andi's continued growth in future books, especially with the positive influence of Will, who I really like. <grin>
This would make a good book club book as it presents several issues worthy of discussion. The book itself doesn't delve deeply into the spiritual side of them, but it offers a great springboard from which to launch the discussion
My Questions for Patricia:
What inspired you to give your heroine a growing pain med addiction?
A good friend has just gone through drug rehab after a thirty-five-year addiction. It started when she was twenty and was prescribed hydrocodone after having her wisdom teeth extracted. I wanted to show just how easy and quick it is to become addicted
I didn't have to do a lot of research since I had lived through the addiction and rehab with my friend. But there is a lot of information on the web about drug addiction. It is an insidious disease that destroys families.
What's next in the series? Will we see these characters again?
Andi will be back in book 4 and more of her journey will be discussed then.
The second Cold Case Novel is set at the Pink Palace in Memphis and opens with the heroine, Kelsey Allen breaking into a building. The hero is Brad Hollister. Here's the blurb:
In an effort to get her security consulting business off the ground, Kelsey Allen has been spending a lot of time up in the air, rappelling down buildings and climbing through windows to show business owners their vulnerabilities to thieves. When she is hired to pose as a conservator at the Pink Palace Museum in order to test their security weaknesses after some artifacts go missing, she's ecstatic. But when her investigative focus turns from theft to murder, Kelsey knows she's out of her league–and possibly in the cross hairs. When blast-from-the-past Detective Brad Hollister is called in to investigate, Kelsey may find that he's the biggest security threat yet . . . to her heart.
About Patricia Bradley:
Winner of the 2016 Inspirational Readers' Choice Award in Suspense, Patricia Bradley lives in North Mississippi with her rescue kitty, Suzy. Her books include the romantic suspense Logan Point Series and sweet romances with Harlequin Heartwarming. Justice Delayed, a Memphis Cold Case Novel, released in January.