I hope you've been enjoying this series on the development of my newest release, Perilous Waters, as much as I'm enjoying writing it.
Today, I'd like to talk about the heart of why I love writing Christian fiction–the opportunity to share spiritual truths and to show my characters working through troublesome obstacles to their faith.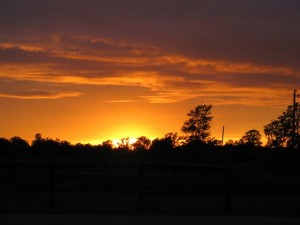 The use of symbols is a powerful way to touch the heart and mind of a reader at a subconscious level.
As hopefully, you're immediate internal reaction to the sunset photo above demonstrated.
I always get ridiculously giddy if a particularly appropriate symbol presents itself as I write.
Not every reader registers the deeper meaning of symbols. And that's okay.
I tend to watch for them in movies, which drives my family a little crazy. For example, in the movie Australia, the big tree in the middle of the desert is used as a symbol for the blossoming relationship. I was sure of it!
So…when the movie appeared to be over after they got the cattle to the ship and my family prepared to call it a night, I said, "It can't be over. They have to go back to the tree!" 🙁
For those who've seen the movie, you'll remember that I was half-right. I won't share the significance here, because I don't want it to be a spoiler, but watch for the tree scenes if you watch the movie. Once you examine such symbols on a conscious level–remember those high school English classes?–you really begin to appreciate their power.
While writing Perilous Waters, "discovering" the particular stolen work of art that the heroine Jennifer Robbins would find in her family's art gallery, seen depicted below on the FBI's National Database for Stolen Art, was a total God moment for me. It immediately resonated with me as a powerful symbolic depiction of several elements of the story.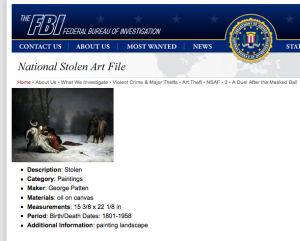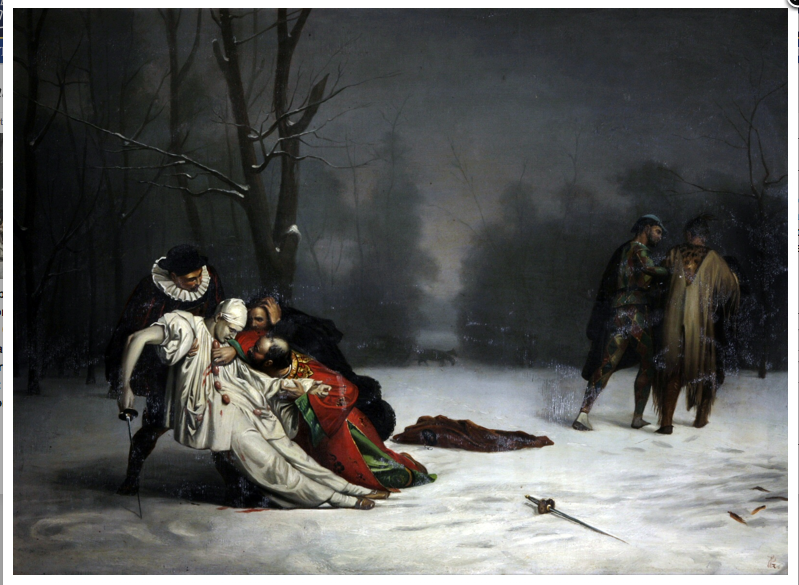 It is called Duel After a Masked Ball, and the title alone conveys two elements significant to the story–the idea of a duel, and the masks people wear. So even if the reader can only visualize the piece from my paltry description, I hope they appreciate that the selection wasn't a random choice.
Throughout the story the heroine finds herself in figurative duels with herself, her sister, her "uncle" and even the hero who she doesn't realize is secretly investigating her connection to ongoing art thefts involving her gallery. Which…
leads to the second element of masks. Not everyone is whom they seem in the story.
Of course, making people not be what they seem is my favorite pastime to keep my readers guessing. 😉
But the deeper truth comes in shedding the mask that hides us from our true selves.
My heroine Jennifer is a twin sister, a believer, while her sister thumbs her nose at religion. To me, one of the most powerful lines in the story is when her sister says: "I don't know why you cling so tightly to that Bible. It doesn't seem to make you any happier."
It forces the heroine to take a good, hard look at herself, her faith and the perception she conveys to others, however unwittingly, of what being a believer looks like. And what it could look like if she trusted God completely, instead of only trusting him with pieces of her life here and there. 
Your Turn: How have you been impacted personally by a fiction book you've read? Or…what's a favorite symbol you remember from a book or movie?