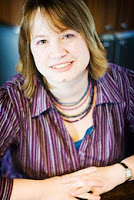 A couple of Mondays ago we talked about how the hero of Lakeside Reunion had to sacrifice a future with the woman he loved to do the honorable thing. Today, I'm excited to be able to bring him here to answer a few questions his choice raised for me.
But first allow me to introduce you to his creator, debut author, Lisa Jordan. I first met Lisa online through
My Book Therapy
and then later in person at ACFW conferences.  What a thrill it has been for us to see our debut novels come out with Love Inspired within months of each other.
Heart, home and faith have always been important to Lisa Jordan, so writing stories that feature both comes naturally to her.
Happily married for twenty-two years, Lisa and her husband have two young adult sons. When she isn't writing or caring for children in her in-home childcare business, Lisa enjoys family time, romantic comedies, good books, crafting with friends and feeding her NCIS addiction. Visit her at
www.lisajordanbooks.com
to learn more about her writing.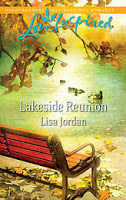 Before we dive into the character questions, here's the back cover blurb for Lakeside Reunion:
Bed-and-breakfast owner Lindsey Porter prays she won't run into Stephen Chase when she returns to Shelby Lake.
Five years ago, the cop jilted her to marry another woman, and Lindsey fled town. But no sooner does she hit city limits than Stephen pulls her over for a broken taillight. Despite the past, he's still able to stir up Lindsey's old feelings for him. Now a widower and single dad, Stephen recognizes a second chance when he sees one. And he'll do anything to make Lindsey trust in God and take a risk for love—again.
Read an excerpt of Lakeside Reunion
Now, Stephen, you chose honor over love. Why?
I screwed up. Big time. I had to man up and face the consequences of my actions. What happened affected many people I loved, but I had to do the right thing, even if it meant giving up Lindsey.
What would you have missed out on if you had chosen Lindsey?         
I missed the first two years of Ty's life. If I had married Lindsey, I would have become a weekend dad, and I didn't want that. Tyler didn't deserve that either. He was already losing his mother. The poor guy needed some security in his life.
And Bethany … she was a great person who didn't deserve what happened to her. She was one of the kindest, gentlest people I've had the privilege to know. She loved Ty with all her heart. He's a great kid, mainly because of her.
How did you feel when you saw Lindsey for the first time?
Like someone had just stepped on my chest. Man, she looked amazing. She was so close, yet so far away, you know?
What regrets do you have over hurting Lindsey?
I loved Lindsey. That never changed. But I had to do what was right for Bethany and Tyler. I was all they had. Breaking my engagement was one of the toughest things I had to do, especially since she was grieving her father's death.
How did you grow to care for Bethany?
Bethany's gentle personality made it easy. We were strangers when we got married, but as we talked, our relationship grew into a deep friendship. She was my wife, and I loved her. I will always cherish her memory and honor it for Ty.
Why is your job so important?
I'm a cop. I catch bad guys. But it's more than that. I screwed up in the past. Being a cop showed I could do something right and honorable. Lindsey's father was my mentor and believed in me. I couldn't let him down.
What's the hardest thing about being a single parent?
What's not hard about it? You have to do everything yourself. Thank God I had my family to lend a hand or else Ty and I may have lived on chicken nuggets or mac and cheese. He deserved so much more. I do my best, but sometimes it doesn't feel like enough. I miss having a partner to share his accomplishments or cute stories with. I hate having to juggle work, his school events, and making sure someone is always there for him.
What life lesson would you share with someone else?
God's grace is a free gift—it's up to you to accept it or deny it. Plus, life's hard, but you don't have to go it alone. Lean on family and friends, but most of all, lean on God. His shoulders can take it and wants to walk alongside us every day. 
Stephen and Lisa, thanks so much for joining us today and being so open with your answers. Lisa do you have anything you'd like to tell my readers? 
Yes, for the past month-plus, I've been holding a scavenger hunt to promote my Lakeside Reunion release.
Also, blog commenters
on my blog hop (like today) will be put in a drawing for fun prizes—breakfast basket, Love Inspired Authors basket, autographed copies of
Lakeside Reunion
. (U.S. addresses only, I'm afraid.) 
There are still a couple of days left to get in on the scavenger hunt. Visit my
Lakeside Reunion Contest
page for more information. For those participating…the token for this blog is a home-cooked meal.
Your Turn: Do you have any questions for Lisa or Stephen? 
Special Notice: Tomorrow at noon Mountain Standard Time, the For Canadians Only gift basket will go up on the fundraiser for Sandi Rog blog. The basket open to International for the 2500 word critique from the Christian Writer's Guild will be on Friday. Be sure to stop in every day. These baskets are worth hundreds of dollars and feature everything from chocolates, crafts, hand-knitted items, jewellery, scrapbooking supplies to books.