Last week, I read debut Love Inspired Historical novelist, Jessica Nelson's Love on the Range and thoroughly enjoyed it. I had no idea that the FBI had already been formed at the time of WWI, which was enough of a hook to pique this romantic suspense reader's interest. Add to that the undercover angle–a topic dear to my heart–and you'll keep me reading into the wee hours. Not to mention that I'm a sucker for a hero in a cowboy hat. ~grin~
Today I'd like to chat about one of the questions from the back of the book, but first…the overview.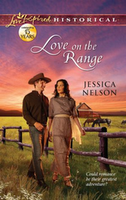 Any other socialite would view being packed off to a remote
Oregon ranch as a punishment. But Gracelyn Riley knows that this is her opportunity to become a real reporter. If she can make her name through an interview with the elusive hero known as Striker, then she'll never have to depend on anyone ever again.
Rancher Trevor Cruz can't believe his secret identity is being endangered by an overly chatty city girl. But if there's one thing he knows, it's that Gracie's pretty little snooping nose is bound to get her in trouble. So he'll use her determination to find "Striker" to keep an eye on her…and stick close by her side.
Jessica did a great job of characterizing her brooding hero and her chatty naive, but endearing, young heroine. Trevor Cruz has a sad past. The son of a prostitute and a father who never had a kind word for him, he doesn't believe in a God of love. While the heroine, a joyous believer, comes from a privileged, upper-class, Bostonian family and has never faced crises in her life…at least not at the beginning of the story. She's traveled West to both escape the scourge of the influenza epidemic and to secure her independence by proving her mettle as a reporter.
But she soon discovers that life in the hot, barren plains is much different then she'd imagined and perhaps not a life she could embrace. Whereas Trevor loves the open range. 
Your Turn: Given their vastly different backgrounds, do you think a romantic relationship like theirs can last? What common values do you think create a satisfying, lasting relationship?
This week I'll be giving away my gently read copy of Love on the Range to one of the commenters on today's or Wednesday's blog. Check back Friday to see if it's you.