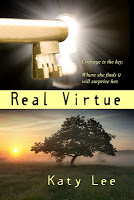 Monday, I introduced Katy Lee and her book Real Virtue. Today I'd like to talk about some questions the story raised.
This was a very thought-provoking book for me. The heroine has self-esteem issues, because of always being placed second to her schizophrenic mother's welfare. However, she has become a successful business woman, thanks in large part, she believes, to the inspiration of a virtual reality game she plays in which she's beautiful and people don't snicker at her because she has a weird mother.
Many people live similar kinds of dual lives aside from virtual reality games. They are one person online, outgoing and friendly chatting on blogs or Facebook, but perhaps are shy and withdrawn or simply housebound in their immediate physical world. Sometimes they are more "connected" to their online "friends" than the people in their home or those sitting next to them in the lunch room.
That came home to me one day when my daughter learned my "writing news" from my Facebook page before I went downstairs to tell my family in person. Yes, I "told" my fans, before my family! Ack!
Moreover, the internet, like TV before it, has changed many people's perception of reality. Online we can be the person we may not feel we can be in real life. There is positive value to this and dangers.
The hero in Real Virtue helps the heroine to see her true value and worth, as he has always seen her and as God sees her–not her skewed virtual reality version (in all its layers of meaning…from the virtual reality of living with a schizophrenic mother to her virtual gaming)
He shows her how to listen to her mother, to really listen to the truth mixed in with the schizophrenic babbling. The characterization is compelling. There are so many layers of meaning and depth to this book.
Your Turn: What are some of the benefits you've experienced in participating in online communities? What dangers concern you about the increasing popularity of cyber-living?
For those who missed Monday's post, this week I'm giving away an Ecopy of Katy's book to one lucky commenter. If you're worried that this is a techno book that you wouldn't relate to, it's not. I was a bit concerned about that as I started the first chapter, but the heroine is soon drawn back to her small home town which is where the story takes place. And if you're reading this blog, you're online enough to totally relate to that aspect of the story.