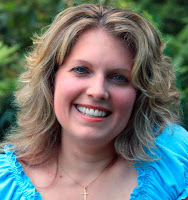 I'm delighted to introduce you to Katy Lee, today. I read her book this weekend at it is soooooo good. One hundred percent romance and one hundred percent suspense and utterly enthralling!
I met Katy online in the writers' loop of the Faith, Hope, Love chapter of RWA. She lives in Connecticut with her husband, three children, and two cats so we've yet to meet in person.
Katy writes higher-purpose stories in high-speed worlds. As an inspirational author, speaker, home-schooling mom, and children's ministry director, she has dedicated her life to sharing tales of love, from the greatest love story ever told to those sweet romantic stories of falling in love. 
She's been a huge encouragement to me, so when I heard she'd landed her first publishing contract, I invited her to drop by and share with us the inspiration behind one of her characters.
Wow! What a story she has to share, too! Take it away Katy…
Hi, Sandra! Thank you so much for having me on your blog today to talk about characters. I'm especially excited to give a little more insight into one of my characters from my Inspirational-Romantic-Suspense, Real Virtue. Now, normally, I would share about my hero and heroine, but today I'm not going to talk too much about Jeremy Stiles and Mel Mesini. Instead, I want to share about my heroine's mother, Arlene Mesini.
Arlene is near and dear to my heart because her character was influenced by my own mother. Like my mom, Arlene suffers from the horrible brain disease, Schizophrenia. When I set out to write Real Virtue, I did not plan for Arlene to have this disease. Never in my wildest imagination did I think my story would link up with it either, but during my research of online virtual-reality gaming I came across an avatar with this affliction.
You see, in Real Virtue, my heroine is a gamer who takes her pastime a little too far. She is living a life that is a bit removed from reality…just like her mother. But in Mel's case, she has the choice.
It was during my research that I found this video of what a day in the life of a schizophrenic person is like, and in watching this video I knew I had found my heroine's mother—and the perfect conflict for Mel to face. A conflict I understood very well.
I'm going to be honest here and say, growing up with someone who has this disease is extremely difficult, and it took me a long time to understand my mother's pain, but more importantly, to accept her as she is. If I was ever to have a relationship with her, I needed to stop trying to escape from the reality of the situation, (excuse the pun) and get to know her.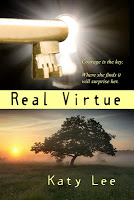 The same goes for Mel.
So, once Arlene was "born," I knew I had an opportunity to take it one step further and honor my own mom through her. I dedicated Real Virtue to my mom as the strongest person I know. I can only hope Arlene does her justice.
And now, here is a about Katy's romantic-suspense, Real Virtue:
In a virtual reality game where she can fly, someone's aiming to take her down.
Mel Mesini is a New York City restaurateur and an avid, virtual reality world traveler. But her successful life—both online and in reality—takes a swerve the night her father is seriously injured in a hit-and-run. To make matters worse, Officer Jeremy Stiles, the man who had once cut her deep with his harsh, rejecting words, is heading the investigation.
When Jeremy realizes Mel is the actual target, his plan is to protect her—whether she wants him to or not. What he wants is answers, especially about this online game she plays. Is it a harmless pastime as she says? Or is she using it to cover something up? As a faceless predator destroys the things that matter to her, Jeremy knows he's running out of time before she loses the one thing that matters most—her real life.
  Katy, thanks so much for sharing with us. I am awed by how God directed you to Arlene's characterization. How special that you're honoring your mom by dedicating the book to her. And I'm sure your story will give hope to many others who face similar difficult experiences.
And I've got to add that I love the cover! 
Real Virtue is available now in ebook from www.Amazon.com and www.BN.com and from her publisher, www.SoulMatePublishing.com. Paperback coming this fall! Katy's fresh and unique voice brings a fast-paced and modern feel to her romances that are sure to resonate with readers long after the last page.
Any last words?
Thank you, Sandra, for having me on your blog! Readers, I love comments and would love to hear from you.
And please keep in touch with me at my website: www.KatyLeeBooks.com
You will see links for Twitter and Facebook and Goodreads. Let's connect and get to know each other!
"So then we are no longer strangers, but members of the household of God."
          ~Ephesians 2:10
Your Turn:  Any questions for Katy?

Giveaway: I'm giving away an Ecopy of Katy's book this week. If you'd like your name thrown into the hat, please leave a comment on today's, Wednesday's or Friday's blog. The winner will be announced Saturday. Please stop by Wednesday to join the conversation about characters in the book.