Ever notice how things seem to happen in threes?
Well, I have 3 things to share with you today.

First of all my super-exciting, big news that I'm finally allowed to disclose!!
Revell Publishing has given me a three-book contract for a romantic suspense/mystery trade-length series. This was a series for which the proposal was submitted in June 2010, so aspiring writers…don't give up hope!
The first book will release in June 2013 and is guaranteed to change the way you look at flowers.
This series is very dear to my heart. Book one was called Murder by Marigolds. I say was, because that title makes it sound like a cozy mystery, which it isn't. So we're in the process of brainstorming new titles.
Although… it does feature a herbal researcher-turned-amateur-sleuth as the heroine. The romance and an underlying suspense plot overarches the series, while each book features a standalone mystery. I'm very excited about having the opportunity to develop my characters and several subplots more deeply with the longer format.
Nothing is at it seems in this rural Niagara-area town!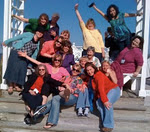 Second: Aspiring Writers…I'm posting at MBT Ponderers today on Five Tips for Writing for Love Inspired Suspense.
Readers who haven't snagged a copy of my latest release...I believe my host is generously giving away a copy to one of the commenters on today's blog!

Third: This news is also for aspiring writers. I highly recommend you check out the Touched by Love contest. TBL is the contest of the Faith Hope Love Chapter of RWA. You don't have to be a member of RWA to enter. 
I coordinate the historical category and so far we only have 3 entries! The entry numbers for the other categories are low, too. A contest win or final is a great boon to a proposal. And this makes the odds in entrants favor! 
Lynette Eason mentioned that she received her first LI contract as the result of a request following the TBL contest.
The deadline is midnight, this Sunday April 1st. Almost all the judges are published, the winner of each category wins a read from a Bethany editor and cash!
Here's the link: http://www.faithhopelove-rwa.org/tbl.html  The entry consists of the 1st 30 pages of your ms and a 2-page synopsis.
Please feel free to share this info, if you go to my Facebook page, you can just click "share" to post the announcement to your page.
Your Turn: Do you have any news to share..in threes or otherwise ?