I have the pleasure of introducing to you to a young debut author with Love Inspired Historicals, Noelle Marchand, and her endearing heroine.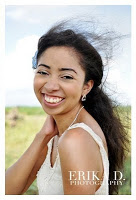 Noelle Marchand's love of literature began as a child when she would spend hours reading beneath the covers long after she was supposed to be asleep. Over the years, God began prompting her to write by placing ideas for stories in her head. Eventually, those stories became like "fire shut up in her bones" leading her to complete her first novel by her sixteenth birthday.
Now, at the age of twenty-two, that fire of inspiration continues to burn. Her first published novel, Unlawfully Wedded Bride, will be on store shelves October 2011. She is currently working on her fourth novel.
Noelle is a Houston-native who will graduate from Houston Baptist University. She is currently a senior double majoring in Mass Communication with a focus in journalism and Speech Communication. She has gained writing, editorial, and publishing experience by working for HBU's student newspaper. 
Kate O'Brien is the heroine of Unlawfully Wedded Bride and I've asked her a few questions…
1) Your younger siblings, Sean and Ellie, have hinted to me that you may be a bit of a workaholic. Is that true? What do you usually do for fun?
I think Sean and Ellie are exaggerating a bit. I just do what has to be done to keep our farm going. If that means I work hard then I work hard. As for fun…I guess I haven't thought about that much since my parents died. Although since Nathan Rutledge arrived I guess you could say things have become more fun if that means exciting and unpredictable.
2) When did you first realize someone is trying to kill you? Describe how you felt?
Someone's trying to kill me? Don't be silly. Is this another rumor started by Mrs. Greene or Andrew Stolvins? If so, I can tell you it isn't true.
3) What made you choose Peppin, TX as your home? Can you tell us a little about the place?
Well, my family moved to Peppin from Illinois when I was just a child. It is a small town with a very close-knit community. Everyone knows what everyone else is doing almost before they do it. It can be a bit disconcerting at times but good because we all look out for each other.
4) How did you meet Nathan Rutledge? What did you think about him the first time you met?
I met Nathan Rutledge when he showed up at my farm claiming to be my husband. I admit I thought he was handsome. I also thought he was slightly delusional until he showed me the marriage certificate then I saw him in an entirely new light. After all, he gave up his former life as a rancher to marry me and help me with the farm. It was a nice if unnecessary gesture. I may miss him just a little after we get the annulment and he goes back to wherever he came from.
5) Showed you a marriage certificate?! How could you possibly think it was real? You'd have to sign it. 
I had. In a moment of desperation when I realized that I needed a husband to get a loan from the bank and save the farm, I'd signed an absentee affidavit. But then I decided to try to find a less drastic way to go about things and never intended to send it. Except Sean found it and sent it off. 


6) What are your strengths and weaknesses?
My strengths are that I am a strong, determined, independent woman. My weaknesses… well, some have said that I'm too strong, determined and independent for my own good.
7) What do you value above all else?
Family. My siblings mean everything to me. I'd do anything to keep us together and protect my parent's legacy.
8) What do you admire about the hero?
He isn't afraid of hard work. He makes Sean and Ellie laugh. He is also very kind.
9) Why could you never see yourself ending up with the hero?
I'm pretty sure I don't need a hero. In fact, I'm positive I don't. I've been doing pretty well by myself.  I'm not interested in depending on a man so I guess that's why I couldn't see myself with him.
10) What's your greatest fear?
My greatest fear is letting my parents down by not taking care of my siblings. I've been doing my best to provide for them. If I'm honest, I'm afraid that won't be enough.
11) What is the one thing you would never do?
Work at the Red Canteen Saloon. My former beau (if you can call Andrew Stolvins that) has offered me a position several times. I would never accept it.
12) If you could change one thing about yourself, what would it be?
I have a bit of a temper. I suppose it would be nice to be a bit more level-headed. 
Thank you Kate for visiting with us today. 
If you'd like to read Kate O'Brien's complete story, look for Noelle's book in stores this month.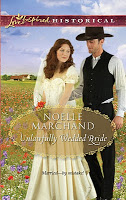 Kate O'Brien can't believe her ears. She's been married, by proxy, to a man she's never met, thanks to her young siblings' meddling! Kate offers her "groom" room and board at her farm until the annulment is granted—nothing more. After all, what else could this predicament be but a blunder that needs fixing?
Nathan Rutledge arrives on Kate's doorstep, seeking a fresh start—with a family that needs his help more than Kate will admit. The shadows in both their pasts will be no match for a bright new beginning. But first, he has to convince a woman frightened of love to throw caution to the Texas wind… 
Click here and buy Unlawfully Wedded Bride directly from Harlequin at 20% off cover. Save an extra 10% with code SAVE10AFFO at checkout!
Your turn: Do you have any questions for Noelle or her heroine or hero?